by Amy Wilkins, Harlequin Digital
October is traditionally the month of all things paranormal with Halloween coming up — so you better believe Harlequin has a slew of paranormal and fantasy releases to keep you up all night…because you're too busy reading AND because of the chills down your spine!
The Night is Forever by Heather Graham (Part of the Krewe of Hunters series, Harlequin MIRA)
A Ghost Rider in the Sky? 
What happened here, on a historic ranch outside Nashville, during the Civil War? And what's happening now?
Olivia Gordon works at the Horse Farm, a facility that assists patients with mental and physical recovery; her specialty is animal therapy. She's always loved her job, always felt safe…until now.
People are dying, starting with the facility's founder, whose body is discovered in a ravine on the property—site of a massacre in 1862. And before every death, Liv sees a horse and rider, wearing a soldier's garb, in the night sky…. Warning? Omen? Or clue?
Liv calls in her cousin Malachi and his Krewe, an FBI unit of paranormal investigators, to discover the truth. New Krewe member Dustin Blake knows they need Liv's involvement in the case, yet he's worried about her safety. Because he and Liv quickly become more than colleagues…and he doesn't want to lose her to the endless night.
Dead of Night by Charlaine Harris and Amanda Stevens (REISSUE, Harlequin MIRA)
From bestselling author Charlaine Harris and rising star Amanda Stevens come two otherworldly tales sure to haunt readers well after the last page is turned.
DANCERS IN THE DARK
#1 NEW YORK TIMES BESTSELLING AUTHOR CHARLAINE HARRIS
Layla Rue Le May is no ordinary dancer—her partner, Sean McClendon, is a three-hundred-year-old redheaded vampire. When Layla Rue acquires a stalker, she's forced to face the music…and wonder if this will finally be her last dance.
THE DEVIL'S FOOTPRINTS
AWARD-WINNING AUTHOR AMANDA STEVENS
Years after her sister's unsolved murder, Sarah DeLaune is haunted by the mysteries of her past when two mutilated bodies are found near Sarah's New Orleans home, the crime scene desecrated by cloven footprints. Sarah has always believed that her sister was killed by a man named Ashe Cain. But no one else has ever seen Ashe. Until now.
Soul of Fire by Laura Anne Gilman (Harlequin Luna)
Three months ago Jan learned that elves were real, our world wasn't safe and it was up to her to save her boyfriend—and the world—from being englamoured into slavery. Now Jan has a new deadline—ten weeks, ten days and ten hours. That's when the truce she arranged between our world and the elves' realm ends, and the invasion starts.
While supernatural creatures work to defend humanity, Jan and the kelpie Martin have to find the preter queen, and use her to force the portals closed. But when magic mixes with technology, shutting it down isn't as simple as closing a door or pulling a plug….
Jan's geek-girl know-how might have gotten her this far, but they're going to need technical skills and magic to shut the portals for good….
And their time's nearly up.
Claimed by the Demon by Doranna Durgin (Harlequin Nocturne)
Gwen Badura lives by instinct, tied to the pendant she has worn since she was a child. Michael MacKenzie is driven by the demon blade he carries, his soul slowly poisoned by its demands. They are both drawn to the city of Albuquerque by forces they do not understand…forces that require their submission—or their death.
Thrown together by violence, in a city being driven mad with hate, their connection—emotional and physical—is immediate, and fierce. They don't know the rules of this deadly game, only the penalty for losing. Gwen and Mac need to trust each other to survive—but the secrets they carry may destroy them first.
Out of the Night by Trish Milburn (Harlequin Nocturne)
Since the death of her fiancé, it is Olivia DaCosta who continues his good work feeding the homeless. Every day is a lone struggle to keep her diner open, more than two years after the plague that devastated the human population. Now, amid the chaos, a vampire race has begun stalking the survivors.
Because of her rare blood type, Olivia has learned to avoid vampire contact—until she meets one she can't resist. After Campbell Raines saves her life, it's clear there's no ignoring their potentially fatal attraction. In the arms of this haunted yet captivating cop, Olivia will discover that vampires can love just as passionately as they kill….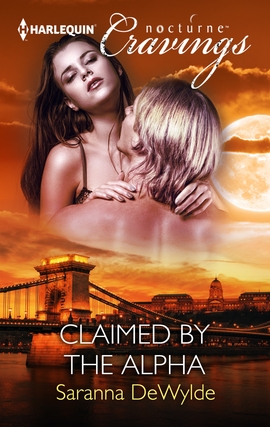 Claimed by the Alpha by Saranna DeWylde (Harlequin Nocturne)
As Alpha of the Alphas, it's Luka Stanislav's duty to hunt down and eliminate rogue werewolves that have been turned into zombies by an insidious virus. His task becomes infinitely more difficult when alluring Guild officer Marijka Zolinski arrives to investigate the death of her partner.
An irresistible wave of desire draws him to Marijka, and their overwhelming passion signals that Luka has found his true mate at last. But gypsy blood flows hot in her veins–and a bond between wolf and gypsy can never be. Still, after one night of ecstasy, Luka can't stop thinking of claiming Marijka as his own….
The Mermaid's Mate by Saranna DeWylde (Harlequin Nocturne)
Two years ago, werewolf Timber Jax was so caught up in Marian Hartley that he never saw the seductive mermaid's betrayal coming. Now, outcast to the rogue pack on Feralon Isle, it's his job to keep the other shifter races away from their territory. But when he comes face-to-face with Marian, he can't bring himself to turn her over to the pack leader. Or stop himself from falling under her spell once again…
The last time Marian's Emperor ordered her to Were territory, she lost sight of her mission–and her heart to a wolf. With the fate of the Mer people in her hands, she won't let that happen again–no matter how much her body longs to finish what they started….
Witchstruck by Victoria Lamb (Book 1 of the Tudor Witch Trilogy, Harlequin TEEN)
If she sink, she be no witch and shall be drowned.
If she float, she be a witch and must be hanged.
Meg Lytton has always known she is different—that she bears a dark and powerful gift. But in 1554 England, in service at Woodstock Palace to the banished Tudor princess Elizabeth, it has never been more dangerous to practise witchcraft. Meg knows she must guard her secret carefully from the many suspicious eyes watching over the princess and her companions. One wrong move could mean her life, and the life of Elizabeth, rightful heir to the English throne.
With witchfinder Marcus Dent determined to have Meg's hand in marriage, and Meg's own family conspiring against the English queen, there isn't a single person Meg can trust. Certainly not the enigmatic young Spanish priest Alejandro de Castillo, despite her undeniable feelings. But when all the world turns against her, Meg must open her heart to a dangerous choice.
Countdown by Michelle Rowen (Harlequin TEEN)
3 seconds left to live.
Once the countdown starts, it cannot be stopped.
2 pawns thrown into a brutal underground reality game.
Kira Jordan survived her family's murder and months on plague-devastated city streets with hard-won savvy and a low-level psi ability. She figures she can handle anything. Until she wakes up in a barren room, chained next to the notorious Rogan Ellis.
1 reason Kira will never, ever trust Rogan. Even though both their lives depend on it.
Their every move is controlled and televised for a vicious exclusive audience. And as Kira's psi skill unexpectedly grows and Rogan's secrets prove ever more deadly, Kira's only chance of survival is to risk trusting him as much as her instincts. Even if that means running head-on into the one trap she can't escape.
GAME 0VER
Let the Dead Sleep by Heather Graham (Reissue, Harlequin MIRA)
AN OBJECT OF DESIRE? OR OF FEAR?
It was stolen from a New Orleans grave—the centuries-old bust of an evil man, a demonic man. It's an object desired by collectors and by those with wickedness in their hearts.
One day, its current owner shows up at Danni Cafferty's antiques shop on Royal Street, the shop she inherited from her father. But before Danni can buy the statue, it disappears, the owner is found dead…and Danni discovers that she's inherited much more than she realized. In the store is a book filled with secret writing: instructions for defeating evil entities. She'd dismissed it as a curiosity…until the arrival of this statue, with its long history of evil and even longer trail of death.
Michael Quinn, former cop and now private investigator, is a man with an unusual past. He believes that doing the right thing isn't a job—it's a way of life. And the right thing to do is find and destroy this object weighted with malevolent powers. He and Danni are drawn together in their search for the missing statue, following it through sultry New Orleans nights to hidden places in the French Quarter and secret ceremonies on abandoned plantations.
Cafferty and Quinn already know that trust in others can be misplaced, that love can be temporary. And yet their connection is primal. Mesmerizing. They also know that their story won't end when this case is closed and the dead rest in peace once again.
Spy Glass by Maria V. Snyder (Reissue, Harlequin MIRA)
New York Times bestselling author Maria V. Snyder develops a world of molten magic where a magician's powers can remain hidden—or even be lost…
After siphoning her own blood to defeat her enemy, Opal Cowan has lost her powers. More, she's immune to the effects of magic. Opal is now an outsider looking in, spying on those with the powers she once had, powers that make a difference in her world.
Until spying through the glass becomes her new power. Suddenly the beautiful pieces she makes flash in the presence of magic. She also discovers that someone has stolen some of her blood—and that finding it might let her regain her powers. Or learn if they're lost forever…