by Jessa Slade, author of Mated by Moonlight (Harlequin Nocturne Cravings, July 2013)
I live in Oregon where wolves have recently moved back into the wilder eastern areas. Since my XY and I camp out there, we've talked about maybe someday getting a glimpse of these still relatively rare predators. What a rush it would be to come over a hill and see a lone wolf – poised against the skyline, at least in my imagination.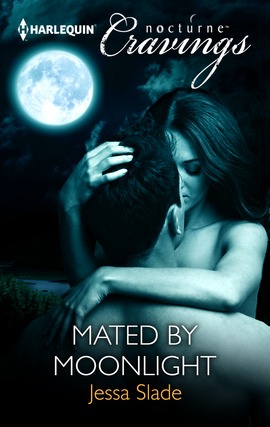 In other outdoor adventures, I've been lucky enough to see fascinating creatures – bears, moose, wild horses, otters, sea turtles, and rattlesnakes (maybe "lucky" is the wrong word with that one, but I actually saved XY from stepping on one rattling monster, which, believe me, I use against him whenever he gets too cocky) – and less charismatic perhaps but still wonderful beasties, like elk, beavers, mountain goats, sting rays, and seals. One time, we sat on a high sand dune and listened to a chorus of coyotes calling across the hills as the moon rose. That was as close as we've gotten to wolves, but I'll keep looking.
I'm mostly a city girl (heck, I "camp" with chocolate donuts and red wine, so I ain't exactly roughing it) but I delight in the thought that wildness still exists. Which is why I think werewolves capture our collective imagination. Parts of my Steel Born dark fey series are set in Oregon, which abounds with wild places, from the rough, rocky beaches to snow-capped mountains to high deserts. It seemed only natural – in the way of wild things – to include werewolves in the third Steel Born story, Mated by Moonlight.
My werelings are creatures of earthy passions. They live with their wild second natures just under their skin. My hero Beck and heroine Merrilee are Alphas of adjoining packs, and both have learned to balance the demands of the "real" world with their animal sides. Of course, it doesn't help that they are slowly driving each other wild 😉 Here's a little tease of them together:
"What do you want?" she murmured.

"You."

He always made it sound so simple. Alarmingly so.

This once, she wanted it to be that. "Then have me."

When he rolled her, somehow he managed to center her perfectly—terrifyingly perfectly—right on his discarded T-shirt to protect her from the prickling grass. He loomed above her, silhouetted against the bright moon for a moment before he dipped his head to kiss her.

"You make this so hard," he said.

"I make you hard."

"That too."

"Now." She raised her hips toward his.

"No." He kissed his way down her throat, as leisurely as the moon tracking across the sky.
I like the idea we all have a bit of wildness living under our skin. Even me, although my "hunt" is usually limited to the nearest chocolate dessert. Just like we need the wild places to dream, I think a bit of wildness in our stories can give an outlet to our beasts within.
Especially when we get wild in a romance!
 Have you ever had a wild wildlife encounter? Would you want to meet a wolf face to face? Leave a comment for a chance to win a pair of "Alpha's Heart" Swarovski dangle earrings.
***
MATED BY MOONLIGHT
Steel Born #3, Harlequin Nocturne Cravings
As the latest in a long line of female Alphas, Merrilee Delemont lives by the code be strong always. While she will never forsake her duty to her pack, she sometimes longs for a mate to share her life with. At least she's found someone to share her bed: Beck Villanova, leader of the neighboring wolf pack.
Their red-hot attraction and struggle for dominance leads to wild sex, but any chance of a real relationship goes up in smoke. Until phae invaders threaten the peace of their remote valley, forcing Merrille and Beck to finally decide which is more important: vying for power, or a passionate partnership that could change their lives forever.
 ***
 Jessa Slade writes paranormal romance, urban fantasy romance and science fiction romance. Basically, anything with woo-woo and woo-hoo! The third book in her Steel Born series—and her first werewolf book!—MATED BY MOONLIGHT, is out now.
JessaSlade.com | Facebook | Twitter | Goodreads | Pinterest