by Megan Hart, author of The Darkest Embrace (Harlequin Nocturne Cravings, June 2013)
I love horror movies. I love sexy stories. So writing for Cravings is a dream come true! The good kind of dream, made of fluffy bunnies and rainbows. Not the nightmare kind with the hands reaching from under the bed to grab you if you stick a foot out of the covers…
Ahem.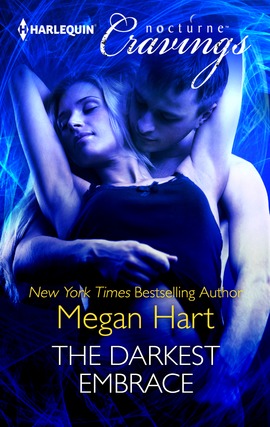 The Darkest Embrace has everything I love in a good horror movie. Young couple in love, an isolated, creepy backwoods setting…and some THING stalking them from the forest.  Romance! Sex! Adventure! Thrills and chills!
Max and Jessie are the young couple in love, heading off for what they both hope will be a sexy, romantic getaway in the woods.  Despite a rough start, they end up at an adorable cabin in the woods. It seems like the perfect place for them to finally take their relationship to the next step, one that Jessie's been craving for a while and Max seems to have been resisting.
Once in the cabin, their plans are interrupted by a menacing visitor and a picnic that gets disrupted by something stalking Max and Jessie from the woods. Pretty soon, instead of a romantic getaway, all the couple wants to do is get away! Whether it's Max's crazy ex or something else, nothing can keep Max and Jessie from facing it together.
I had so much fun writing this story. Not only is Max delicious, but Jessie's his perfect match. Plus, I had a great time paying homage to some of my favorite horror films. I sprinkled references to a lot of them throughout the story – alert readers can easily figure them out!
 The Darkest Embrace might have tickled my love of what goes bump in the night, but my favorite part of the story is the growing relationship between Max and Jessie. Being thrown into a situation that's literally live or die might be enough to break up some couples, but this pair manages not only to conquer everything that hits them and squeeze in some time to fall definitely, head over heels in love.
Megan Hart