by Amy Wilkins, Harlequin Digital
Harlequin has a new bevy of paranormal books out this month, from Julie Kagawa's dystopian vampire YA The Eternity Cure, to a magical historical romance novella by Barbara Monajem. Keep reading to check out all our new releases his shelves and ebook stores next week in North America!
Oath Bound by Rachel Vincent (Harlequin MIRA)
The Tower Syndicate will fall…
The secret daughter of the head of an infamous Skilled crime family, Sera Brandt has hidden her past, her potential and especially her powers. But when a tragedy strikes her other family, Sera needs justice. And the only way to get it is to reveal her heritage- including a rare Skill-and take the reins of the TowerSyndicate from her cunning and malicious aunt.
If he can figure out how…
Kristopher Daniels might have the answer. He's fought the syndicate to protect his sisters, but he'd never realized just how close to the new heir he needed to get.…
And if they can survive
Neither is used to trusting. But there's something between them that can't be ignored. And so Sera is on the run with a man she can't figure out, a target on her back and the new knowledge of just how powerful she really is….
Keeper of the Shadows by Alexandra Sokoloff (Part of the Keepers: LA series, Harlequin Nocturne)
In their new Keeper roles, these extraordinary women must balance the fate of the world with their desires….
As a crime beat reporter, Barrie Gryffald's work is risky enough when she's investigating mortal homicides. But when a teenage shifter and an infamous Hollywood mogul are both found dead on the same night, her Keeper intuition screams, Otherworldly.
Reluctantly, she enlists her secret crush, Mick Townsend, a journalist with movie-star appeal. Together, they dig up eerie parallels to a forgotten cult-film tragedy. But it may be too late. With a cast of suspects ranging from vampire junkies to the ghosts of Hollywood past, no one can be trusted. Least of all Mick, who may well prove to be as unpredictable as the Others Barrie is sworn to protect….
Taming the Demon by Doranna Durgin (Harlequin Nocturne)
Their passion threatens her life and his tortured soul.…
Devin James wields a demon blade. Or does the demon blade wield him? The bond between man and steel is soul deep, the source of Devin's power and an ever-present torment. Struggling against the evil forged within the blade, Devin patrols the dark streets of Albuquerque, searching for innocents to rescue. That's how he finds Natalie Chambers….
Natalie is sure that helping Devin is another in a long series of very bad decisions, but she can't abandon the man who saved her life—a man who believes that the demon blade might turn him into a monster. And she is powerless to resist their fierce attraction.
Love is their only chance at salvation. Can they now find the courage to take that chance? And can they keep the blade from the man who would destroy them both?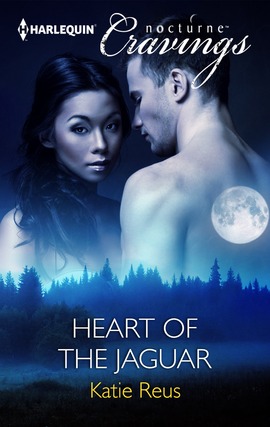 Heart of the Jaguar by Katie Reus (Harlequin Nocturne Cravings)
Dr. Cindy Shahi is resigned to being mateless, but her inner jaguar has needs that must be sated. An encounter with a deliciously sexy stranger is the perfect chance for a night of no-strings primal passion.
Elias was content to be a lone wolf until the moment he laid eyes–and much more–on Cindy. Their intense attraction can mean only one thing: the mating call. And when it becomes clear someone isn't happy about their budding relationship, all of Elias's protective instincts go on high alert. He'll do anything to keep Cindy safe–and convince her that he intends to claim her as his own, no matter what.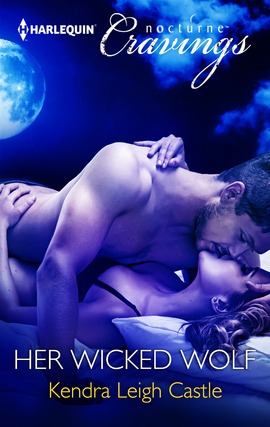 Her Wicked Wolf by Kendra Leigh Castle (Harlequin Nocturne Cravings)
Writer Brienne Fox can't stop thinking about her sexy new downstairs neighbor. But the chances of living out her X-rated fantasies with the man are slim when they've barely exchanged two words.
Alistair Locke has good reasons for staying a solitary wolf. With his enemy on the hunt, anyone close to him is in mortal danger. Yet no woman has ever stirred the beast within the way Brie does, and they can't resist the erotic pull drawing them together when they get snowed in together.
But giving in to one night with the woman he desires may provide the perfect opening for his mortal enemy to destroy the exiled alpha wolf for good….


The Eternity Cure by Julie Kagawa (Part of the Blood of Eden series, Harlequin TEEN)
In Allison Sekemoto's world, there is one rule left: Blood calls to blood.
She has done the unthinkable: died so that might continue to live. Cast out of Eden and separated from the boy she dared to love, Allie will follow the call of blood to save her creator, Kanin, from the psychotic vampire Sarren. But when the trail leads to Allie's birthplace in New Covington, what Allie finds there will change the world forever—and possibly end human and vampire existence.
There's a new plague on the rise, a strain of the Red Lung virus that wiped out most of humanity generations ago—and this strain is deadly to humans and vampires alike. The only hope for a cure lies in the secrets Kanin carries, if Allie can get to him in time.
Allison thought that immortality was forever. But now, with eternity itself hanging in the balance, the lines between human and monster will blur even further, and Allie must face another choice she could never have imagined having to make.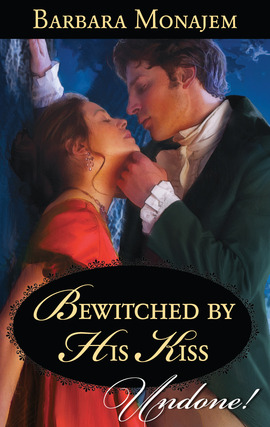 Bewitched by His Kiss by Barbara Monajem (Harlequin Historical Undone)

England, 1804
Lucasta Barnes knows the folly believing in magic can lead to–and she won't accept that her illicit tryst with a notorious rake was the result of anything more than pure lust. Or that it has bonded them together forever. Yet, she can't deny that she yearns for just one more night in his arms…
David, Earl of Elderwood, is used to women being enchanted by him, but ever since a passionate encounter with Lucasta three years ago, he desires only her. How can he convince his thoroughly practical paramour that love is the greatest magic of all?
Reissues:
The Girl in the Clockwork Collar by Kady Cross (Part of the Steampunk Chronicles, Harlequin TEEN)
In New York City, 1897, life has never been more thrilling—or dangerous
Finley Jayne and her "straynge band of mysfits" have journeyed from London to America to rescue their friend Jasper from the clutches of a devious criminal demanding a trade—the dangerous device Jasper stole from him…for the life of the girl Jasper loves. One false move from Jasper, and the strange clockwork collar around Mei's neck tightens and tightens.
From the rough streets of lower Manhattan to elegant Fifth Avenue, the motley crew of teens follows Jasper's elusive trail. And they're about to discover how far they'll go for friendship.
More than ever, Finley must rely on powerful English duke Griffin King to balance her dark magic with her good side. Yet Griffin is at war with himself over his secret attraction to Finley…and will risk his life and reputation to save her. Now, to help those she's come to care for so deeply, Finley must infiltrate the criminal gang. Only problem is, she might like the dark side a little too much….
Rebirth by Sophie Littlefield (Part of the Aftertime series, Harlequin LUNA)
Civilization has fallen, leaving California an unforgiving, decimated place. But Cass Dollar beat terrible odds to get her missing daughter back. Yet with the first winter, Ruthie retreats into silence. Flesh-eating Beaters still dominate the land. And Smoke, Cass's lover and strength, departs on a quest for vengeance that can end only in disaster.
Now the leader of the survivalist community where Cass has planted roots needs Cass's help. Dor wants to recover his own lost daughter, taken by the Rebuilders. Soon Cass finds herself thrust into the dark heart of an organization promising humanity's rebirth—at all costs.
Bound to two men blazing divergent paths across a savage land, Cass must overcome the darkness in her wounded heart, or lose those she loves forever.