by Amy Wilkins, Harlequin Digital
Spring is here, bringing new weather, new flowers…and new books from Harlequin! This month, Harlequin Books has new paranormal romances from favorite series like Harlequin Nocturne and Nocturne Cravings, as well as the final book in Rachel Vincent's Soul Screamers series from Harlequin TEEN, and new looks for Julie Kagawa's The Immortal Rules and Sophie Littlefield's zombie series, Aftertime. Click read more to check them all out!
The Jezebel by Saskia Walker (Harlequin HQN)
Once ignited, a witch's carnal curiosity knows no bounds
On the run from her powerful benefactor whose unscrupulous interest in her magic has forced her to flee, Margaret Taskill has never needed a hero more. So in order to gain passage from England to her homeland in Scotland, she plans to win over a rugged sea captain with the only currency she has: her virginity.
Maisie submits to Captain Roderick Cameron's raw sexuality in search of protection, their initial attraction growing into unbridled desire and unleashing devastating powers within her. But the journey threatens to take a dangerous turn, forcing Maisie to keep close the secret truth about what she is, and keep the superstitious crew–unhappy at having a woman on board–at bay.
With Maisie's wealthy sponsor giving chase, Roderick must stay one step ahead of the British Navy before Maisie's seductive magic causes a full-scale mutiny. He may believe he has full command of his ship, but he's about to get much more than he bargained for.
The Wolf Prince by Karen Whiddon (Harlequin Nocturne)
Willow was unlike any princess he'd ever met…
As heir to the throne, Ruben must choose an appropriate mate to preserve his royal bloodline—despite his fear that his true nature will destroy them both. Yet the female he craves above all others is a dangerous combination of fairy and shifter, a mesmerizing creature who inspires both passion and suspicion. Then violence strikes the castle, and the two are forced to track a killer into perilous magical territory. But with treachery everywhere, will Willow and Ruben's growing bond be enough to shift the fate of their two kingdoms?
Beauty's Beast by Jenna Kernan (Harlequin Nocturne)
He was the son of her sworn enemy…and now the only one who could save her
Samantha Proud doesn't think her life could get any more complicated—or tragic. Since she dared to save a human boy from evil spirits, Nagi, the Ruler of Ghosts, has been actively stalking her family. Still, she never expected well-meaning Thunderbirds to scatter them to the four winds, dumping her at the feet of Alon Garza, a gorgeous Halfling, for safekeeping.
Alon has never met anyone like the sensual shifter who has just been literally dropped into his woods. Because of who he is, he never wanted to be with a woman for more than one night. Now, to keep Samantha safe, his only choice is to claim her. But will his desire expose the dark truth he's been fighting for so long?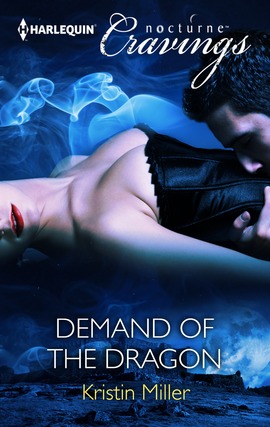 Demand of the Dragon by Kristin Miller (Harlequin Nocturne Cravings)
Despite their attraction, dragon shifter Caleb Rycroft always saw Lucy Sheffield as off-limits. Now, three years after mysteriously disappearing, Caleb has returned and wants nothing more than to show Lucy the ecstasy that can be shared between dragon and rider. But Lucy is set to claim another dragon at her brother's demand… In order to stop the arranged claiming, he and Lucy must embark on a frantic mission to find her brother and extinguish a growing threat to their entire isle. If they fail, the island of Feralon will perish…along with any hopes Caleb had to explore his forbidden desire for Lucy…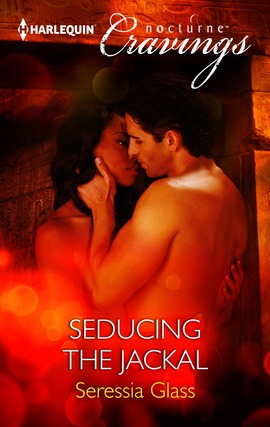 Seducing the Jackal by Seressia Glass (Harlequin Nocturne Cravings)
Centuries ago, tragedy severed the alliance between the jackal shifters and powerful Egyptian priestesses. But when four of his brothers succumb to a deadly curse, clan commander Markus kidnaps one of the witches and insists she undo the evil magic.
Although Tia can undo the curse, she insists her coven is not behind it–and she is shaken to her core by her intense attraction to her captor. The sparks between them quickly ignite, filling them both with passion and power unlike anything they've ever known. Will it be enough to heal the rift between their peoples?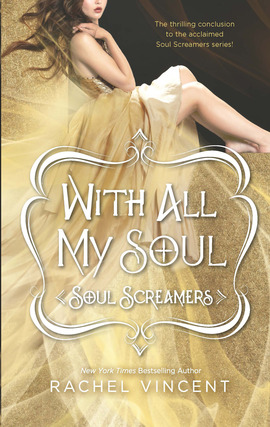 With All My Soul by Rachel Vincent (Part of the Soul Screamers series, Harlequin TEEN)
What does it mean when your school is voted the most dangerous in America?
It's time to kick some hellion butt…
After not really surviving her junior year (does "undead" count as survival?), Kaylee Cavanaugh has vowed to take back her school from the hellions causing all the trouble. She's going to find a way to turn the incarnations of Avarice, Envy and Vanity against one another in order to protect her friends and finish this war, once and forever.
But then she meets Wrath and understands that she's closer to the edge than she's ever been. And when one more person close to her is taken, Kaylee realizes she can't save everyone she loves without risking everything she has….
Reissues: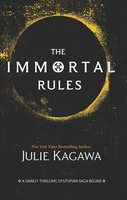 The Immortal Rules by Julie Kagawa (Book 1 of the Blood of Eden series, Harlequin TEEN)
To survive in a ruined world, she must embrace the darkness…
Allison Sekemoto survives in the Fringe, the outermost circle of a walled-in city. By day, she and her crew scavenge for food. By night, any one of them could be eaten. Some days, all that drives Allie is her hatred of them–the vampires who keep humans as blood cattle. Until the night Allie herself dies and becomes one of the monsters.
Forced to flee her city, Allie must pass for human as she joins a ragged group of pilgrims seeking a legend–a place that might have a cure for the disease that killed off most of civilization and created the rabids, the bloodthirsty creatures who threaten human and vampire alike. And soon Allie will have to decide what–andwho–is worth dying for…again.
Enter Julie Kagawa's dark and twisted world as an unforgettable journey begins.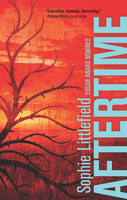 Aftertime by Sophie Littlefield (Book 1 of the Aftertime series, Harlequin Luna)
Awakening in a bleak landscape, Cass Dollar vaguely recalls enduring something terrible. Having no idea how many days–or weeks–have passed, she slowly realizes the horrifying truth: her daughter, Ruthie, has vanished. And with her, nearly all of civilization. Instead of winding through the once-lush hills, the roads today see only cannibalistic Beaters–people turned hungry for human flesh by a government experiment gone wrong.
In a broken, barren California, Cass will undergo a harrowing quest to get Ruthie back. Few people trust an outsider–much less one who bears the telltale scars of a Beater attack–but she finds safety with an enigmatic outlaw, Smoke. And she'll need him more than ever when his ragged band of survivors learn that she and Ruthie have become the most feared, and desired, weapons in a brave new world….