by Michele Hauf, author of This Soul Magic (Harlequin Nocturne Cravings, March 2013)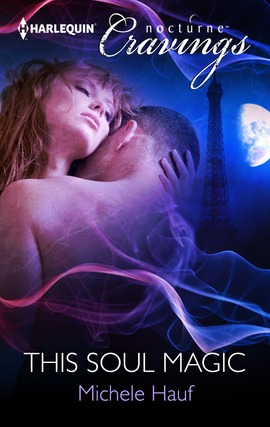 So I hope you all have had a chance to read This Wicked Magic, because the followup story, This Soul Magic is now available. First, just to note: You do not have to read This Wicked Magic to understand what is going on in This Soul Magic.  But if you liked some of the secondary characters in TWM, then the next story features Libby and Reichardt.
When last we met the twosome, Libby had learned that the way to her man's heart was through chocolate chip cookies, and…that she had fallen in love with a two thousand year old virgin.  Ahem.  So he's been a bit busy these past couple thousand years.
The hero, you see, is a former soul bringer, descended from angels. All his life he has ferried souls to Above and Beneath.  Always. Never had time for a relationship.  Isn't really sure what emotion is.  Until he gets back his soul.  Then, he's as if a newborn walking the world.  The challenge in writing Reichardt was to make him real, heroic, and sympathetic, as well as alpha.  He's eager to learn the, erm…sensual arts, but at the same time, everything is new to him.  So Libby has her hands full.
I hope you'll enjoy this short story that pairs a retro-rocker witchy chick with a slightly naive, but certainly wise-to-the-world former soul bringer.