by Lauren Hawkeye, author of Seduced by the Darkling (Harlequin Nocturne Cravings, February 2013)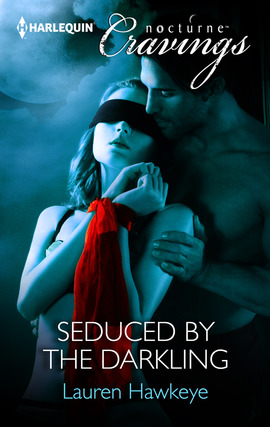 In the world of my Darklings, vampires don't need to eat.
This is a shame. I'm sure that blood has its appeal, but it can't be nearly as satisfying as, of, say a piece of chocolate cake.
I often find that my heroes—big, tough alpha vampires that they are—wind up feeding their heroines. I use this as a device to show that they care outside of the bedroom. C'mon… don't you find it sexy when a man cooks for you?
In Seduced by the Darkling, Zachariah cooks a pasta dish for Jazlyn. She's surprised that he knows his way around the kitchen… but hey, he's had several hundred years to practice.
Here is the recipe for the meal that Zachariah cooks for Jazlyn. I hope it tastes better than a wineglass full of blood!
 Zachariah's Penne Pasta with Tomatoes and Fresh Herbs
  1 lb penne pasta
  2 tablespoons olive oil
  2 tablespoons minced garlic
  5 large ripe tomatoes, peeled, seeded & chopped
  2 tablespoons fresh basil, chiffonade
  2 tablespoons freshly chopped Italian parsley
  1 tablespoon freshly chopped oregano
  1 tablespoon fresh thyme
  1 teaspoon freshly chopped rosemary
  salt & pepper
Cook the pasta in a large pasta pot of salted, boiling water – penne takes approximately 15 minutes.
Meanwhile minced the garlic and chop the fresh herbs. Seed and chop the tomatoes and place in a large bowl. Stir in the fresh herbs and set aside.
In a small skillet, heat the olive oil over medium-high heat and sauté the garlic, stirring frequently until just golden brown. Be careful not to burn the garlic or it will become hard and bitter. Remove from heat and pour the oil and garlic over the tomatoes.
When pasta is cooked, drain while reserving ½ cup of the pasta water. In a large serving bowl, combine the penne pasta with the tomato mixture, then toss until well combined. Season with salt & pepper and add some reserved pasta water as needed. Drizzle with a little extra-virgin olive oil and serve.
Recipe courtesy of www.italian-cooking-made-easy.com