by Karen Duvall, author of "Sun Storm" in 'Til the World Ends anthology (Harlequin Luna, February 2013)
I'm so excited to have my novella, "Sun Storm", included in Luna's new 'Til the World Ends anthology. I enjoyed the challenge of writing a dystopian story because it forced me to think beyond fantasy fiction and wrap my brain around a little science.
I considered some of the possible scenarios that could bring our planet to its knees. We've all heard it countless times in the news: Floods, earthquakes, worldwide famine, nuclear war, asteroids, solar storms… I was especially intrigued by the power of intense solar storms and the damage they've already caused over the years. I decided to boost the danger by adding some unlikely magic, and the idea for "Sun Storm" was born.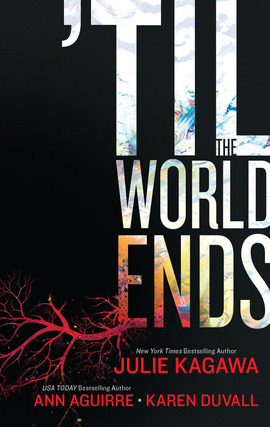 Most important to me was how this devastating event would affect my characters. When survival is at stake, we turn to those we trust, and we crave the one thing even the ending of the world can't take away from us: our ability to love. Getting it and keeping it may not be easy in a dangerous world that's all but destroyed.
In a post-apocalyptic story, characters are put to the test. Will the good guys continue to be good and the bad guys only get worse? When faced with the ultimate test of survival, you can imagine how such a life-changing event might affect people. Good guys may not be so good anymore, and the bad guys could discover a more honorable side to themselves. Communities will be forced to cooperate if they want to live on the limited resources they have available. It's incredible what you can learn about people in the face of adversity.
While developing my story, I immediately thought of survivor guilt. My heroine's DNA was altered by solar storms, and she physically depends on the very thing responsible for the deaths of millions of innocent people, including her own mother. Sara thinks she's the only one who bears that cross until Ian Mathews, another powerful Kinetic, comes into her life. He, too, has suffered tragic losses due to the storms. The two join forces as they try to discover a way to use their kinetic powers to end the storms for good, or die trying.
I hope you'll pick up a copy of 'Til the World Ends and join Sara and Ian on their journey down a path that could save the world.
Have you ever thought of ways the world could end? Please share!
 http://www.karenduvallauthor.com
http://www.karenduvall.blogspot.com
Twitter: @KarenDuvall
Facebook: http://www.facebook.com/karen.duvall2