by Amy Wilkins, Harlequin Digital
Give yourself a shape-shifter, vampire or even a post-apocalyptic hero for Valentine's today with this month's batch of new paranormal romances from Harlequin on sale now!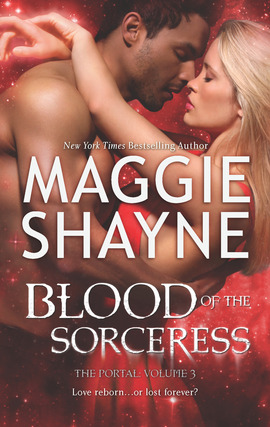 Blood of the Sorceress by Maggie Shayne (Part of the Portal series, Harlequin MIRA)
From New York Times bestselling author Maggie Shayne comes the final novel in her thrilling new trilogy, THE PORTAL
As an ancient king's favorite harem slave, Lilia committed the worst of all possible crimes: loving another man. When the king discovered her treason, her lover was sentenced to lose his soul and linger in eternal imprisonment, and Lilia herself was executed alongside her sisters. While they reincarnated through countless lifetimes, she lingered alone between worlds for thousands of years, waiting for the moment to rescue her beloved Demetrius.
Now that moment has come. Demetrius has broken free, but without his soul and in the thrall of the same high priest who betrayed them so long ago; he has become a ravaging demon, devoting himself solely to pleasure and power. Somehow Lilia must convince him to reclaim his humanity, to abandon the enemy tempting him to give in to his cruel desires–or her life will be lost alongside his, both of them condemned to eternal damnation, eternal isolation, their love lost one final and irrevocable time.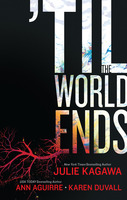 'Til the World Ends by Julie Kagawa, Ann Aguire and Karen Duvall (Harlequin LUNA)
New York Times bestselling and critically acclaimed authors Julie Kagawa, Ann Aguirre and Karen Duvall imagine what it takes to survive in a world where everything you know–and love–is about to disappear…forever.
DAWN OF EDEN BY JULIE KAGAWA
Before The Immortal Rules, there was Red Lung, a relentless virus determined to take out all in its path. For Kylie, the miracle of her survival is also her burden–as a doctor at one of the clinics for the infected, she is forced to witness endless suffering. What's worse, strange things are happening to the remains of the dead, and by the time she befriends Ben Archer, she's beginning to wonder if a global pandemic is the least of her problems….
THISTLE & THORNE BY ANN AGUIRRE
After a catastrophic spill turns the country into a vast chemical wasteland, those who could afford it retreated to fortresses, self-contained communities run by powerful corporations. But for Mari Thistle, life on the outside–in the Red Zone–is a constant struggle. To protect her family, Mari teams up with the mysterious Thorne Goodman. Together, they'll face an evil plot in both the underworld of the Red Zone and the society inside the fortresses that could destroy those on the outside…for good.
SUN STORM BY KAREN DUVALL
Sarah Daggot has been chasing storms since she was a child. But after the biggest solar flares in history nearly destroy the planet, she becomes a Kinetic, endowed by her exposure to extreme radiation with the power to sense coming storms–in the cosmos and beyond. And she's not the only one. Sarah believes the Kinetics are destined to join forces and halt the final onslaught of the sun. She'll vow to keep trying to convince the one missing link in their chain of defense, the enigmatic Ian Matthews, up until the world ends.
This Wicked Magic by Michele Hauf (Harlequin Nocturne)
Certainly Jones has pushed it too far this time. Gnawing and clawing at his soul are the demons he unknowingly carried back from his quest into their land. Weak and exhausted, the dark witch gazes down the dim, cobbled street at his only hope—a lone vehicle with blazing headlights. Desperate, he makes a mad dash for the light, and the striking woman illuminated in its wake.
Vika senses him before she sees him. The good witch with emerald eyes and fiery red hair has never dabbled in dark magic. But one look at CJ turns her life upside down. Soon Vika is lured into his dangerous world…and his powerful arms. A few sultry kisses are not enough to save CJ from his demons—it's going to take some seriously potent sorcery. And they're running out of time.
Undercover Wolf by Linda O. Johnston (Part of the Alpha Force series, Harlequin Nocturne)
P.I. Quinn Parran's mission is simple: to join Alpha Force, a unique military team of shape-shifters, and use their new elixir to enhance his shape-shifting abilities. With the aid of Sergeant Kristine Norwood, each shifting experiment sparks something more volatile than any challenge he's ever encountered: a primal passion. And when Quinn's brother vanishes on his honeymoon and is suspected of murder, Quinn must join forces with Kristine to investigate.
With no choice but to go deep undercover as newlyweds, Kristine finds herself enjoying the charade a little too much. She is attracted to Quinn, but isn't about to get involved with a shape-shifter. Until their quest becomes more dangerous, and Kristine must put aside her doubts and put her full trust in Quinn….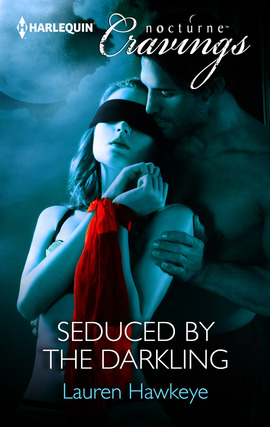 Seduced by the Darkling by Lauren Hawkeye (Harlequin Nocturne Cravings)
Reporter Jazlyn Adams knows there's something different in the air when she arrives at the scene of a brutal murder, something dark. Then an alluring stranger tells her the woman was killed by a vampire–and that he wants Jazlyn to expose their existence to the world. Her brain tells her he's crazy…but her body is undeniably aroused by him.
Zachariah Novak needs Jazlyn help in his quest against the Darklings. Seducing her would interfere with his plans…yet he's wanted her since the first time he set eyes on her. The desire to introduce her to the forbidden pleasures he enjoys is too enticing to resist, and her response to his touch only increases his passion. But when Zachariah's request to investigate the Darklings puts Jazlyn in danger, he will have to choose between his mission and her safety….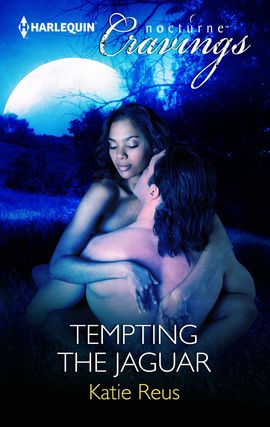 Tempting the Jaguar by Katie Reus (Harlequin Nocturne Cravings)
Jaguar shifter Estrella Rios is packless, and she likes it that way. No one is going to tell her what to do, least of all the sexy but arrogant wolf shifter who intends to claim her as his mate…
Rainer wants to know what a lone cat is doing in his pack's territory without permission–but mostly he just wants her. From the moment he meets Estrella, their attraction is scorching and undeniable. But enemy vampires have set their sights on Estrella, too, and keeping her safe proves difficult, especially when it's clear there's more to Estrella's heritage than either of them could imagine. Now they must discover the truth before it becomes too late for Rainer to ever claim her heart…
But enemy vampires have set their sights on Estrella, too, and keeping her safe proves difficult…and keeping his hands off her is impossible.