by Jessa Slade, author of A Little Night Muse, and Elle James, author of The Witch's Seduction (Harlequin Nocturne Cravings, January 2013)
Being a romance hero is hard work. Also hot and hazardous. Have you seen the devastation wrought upon their shirts? Check out the covers of this month's Nocturne Cravings for the hard, hot and hazardous evidence. Not all men are up to the challenge of being a romance hero.
And even the brave few sometimes need a little down time. Let's listen in as Cal Black, from Elle James' The Witch's Seduction, and Josh Reimer, from Jessa Slade's A Little Night Muse, meet up for a beer after work. Wolly — Josh's red heeler — is lying under the table, keeping watch for anything suspicious. There's a lot to be suspicious about, these days.
Josh (taking a swig and tipping back the brim of his cowboy hat with the bottle): Hey there, Cal. Nice bike you rode in on. Out on the ranch, I use mostly real horsepower. I save all the heavy metal for my belt buckles.
Cal: (shrugs, a smile curling the corners of his lips) It's a Harley. Need I say more?
Josh: I needed a drink after finding a strange woman, alone in winter in the middle of my Oregon valley. By strange, I mean… Adelyn's not like any other woman I've known. I can't quite put my finger on it. Not that I'd mind putting my hands on her. In a gentlemanly way, of course.
Cal: Didn't know what I was getting into when I agreed to partner with Deme. And by partner, I mean more than at work. Between her and her sisters, I'm up to my boot tops in crazy happenings.
Josh (gets up to add a couple coins to the jukebox and start up Black Magic Woman; he saunters back, humming along…badly): Women. Yeah… Maybe I have been alone too long. And no cow jokes, hear? But if you got any advice on women, I might just listen.
Cal: (snorts) Sometimes you just gotta go with your gut. Love her hard, be straight, don't screw around and, if she's really worth the time of day, don't let her get away.
Josh: I'd rather face down a bear. But hell, the things moving through my valley these days aren't the predators I've always known. I'll do whatever it takes to protect what's mine, but there's more to Adelyn than meets the eye, so I'll be keeping a close watch on her. (Did Wolly just roll his eyes?)
Cal: (takes a long swallow of beer and sets the empty bottle on the table) Been a few weeks since I saw Deme. I'm looking forward to having her back. I hope she doesn't get all wrapped around the axels about the new woman on our team. Two hot women on the same floor spells trouble. Especially if one of 'em is Deme.
 Josh: Being alone doesn't sound so bad now. I have Bunco — that's my quarter horse outside — and Wolly here. (ruffles Wolly's ears; there'd be a tail thump except Wolly doesn't have a tail) If there's one thing I couldn't stand, it'd be falling for someone and watching her melt away like the last of the snow.
Cal: (stares off into the shadowy corner of the bar) I let her go once. I'll be damned if I let Deme go again. I'll do whatever it takes to keep her safe and in my life.
 Got a question for Cal or Josh? Ask away or leave a comment for a chance to win a print copy of Elle James' The Witch's Initiation and the first ebook in Jessa Slade's Steel Born series, Dark Hunter's Touch.
About the Authors:
Elle James aka Myla Jackson spent twenty years livin' and lovin' in South Texas, ranching horses, cattle, goats, ostriches and emus. A former IT professional, Elle is proud to be writing full-time, penning intrigues and paranormal adventures that keep her readers on the edge of their seats. She has 31 works with Harlequin, self published works under pen name Elle James, over 40 works with other publishers including Samhain, Elloras' Cave, Kensington and Avon and 18 works self-published under pen name Myla Jackson. Now living in northwest Arkansas, she isn't wrangling cattle, she's wrangling her muses, a malti-poo and yorkie. When she's not at her computer, she's traveling, out snow-skiing, boating, or riding her ATV, dreaming up new stories.
THE WITCH'S SEDUCTION
Elle James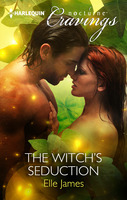 Deme Chattox is eager to return home and start her new job on the Chicago PD's paranormal task force. As a witch, she's got special insight into the city's supernatural underworld. And as an added bonus, her partner is also her lover, Cal Black.
 Deme can't wait to pick up where their off-the-charts chemistry left off, but she senses a change in Cal. Though the sex is hotter than ever, she doesn't need mystical powers to know there's something he's not telling her. Something that threatens their budding relationship, and their latest case…
Jessa Slade writes paranormal romance, urban fantasy romance, and science fiction romance. Basically, anything with woo-woo and woo-hoo! She lives in the Pacific Northwest where the rain rain rain rain keeps her at her computer all day and all night. Jessa can be found online in all the usual haunts: Website, Newsletter, Facebook, Twitter, Pinterest, Goodreads
LITTLE NIGHT MUSE
Jessa Slade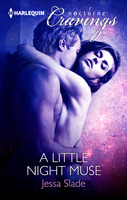 Convicted of treason, Adelyn has been banished to the sunlit realm of humans—a fate worse than death for a musetta who exists only to inspire other phae. To reverse her exile, she must find a pair of lovers who have fled the court and return them to face the Queen's wrath. But once in the mortal realm, she meets a man who unveils her hidden desires…
When Josh Reimer discovers an ethereal beauty at a cabin near his ranch, he decides the neighborly thing to do is take her in. Adelyn inspires a passion unlike anything he's ever known and he vows not to lose the magic they've found together—even if that means she must choose between her home and their love.
* * *
Missed any of the January Nocturne Cravings blog tour posts? Find the list here.
Rafflecopter giveaway with Prize Totes of books and goodies!