by Elle James, author of The Witch's Seduction (Harlequin Nocturne Cravings, January 2013)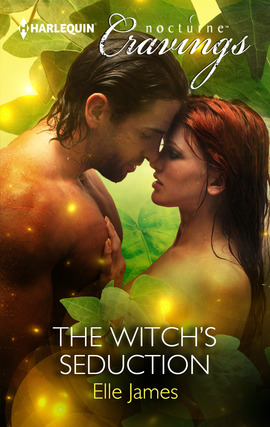 Deme Chattox is the oldest of the Chattox sisters, red-haired, tough and has an amazing amount of attitude. Of the five sister's her talent runs in the earth point of the pentagram. She's been in love with Cal Black for a while, just afraid he will never understand or accept her for what she is…a witch.
Cal Black, mortal but oh so much more, is a dark, handsome, leather-clad cop with swagger. He's been assigned to work on the paranormal investigative team and work with his love Deme.
This series leads the Chattox sisters into the shadowy dangers of the Chicago underworld and beyond, battling creatures you only read about in legends. Who would have thought the evil Chimera would turn up beneath the college campus Deme's sister would attend—THE WITCH'S INITIATION?
In The Witch's Seduction, Deme and Cal battle a serpent among them, a creature capable of freezing a man's mind to get what it wants,  maybe even someone on their own special investigations team.
The Dark Lords series will be dealing with other legendary creatures like Medusa, Kraken, shapeshifters, dragons or demons. But don't look for them to always be in their legendary form. Who knows, they might be disguised as friends or teammates.
Leave a comment letting me know what your favorite legendary creature is and why for a chance to win a print copy of The Witch's Initiation.
About the Author:
Elle James spent twenty years livin' and lovin' in South Texas, ranching horses, cattle, goats, ostriches and emus. A former IT professional, Elle is proud to be writing full-time, penning intrigues and paranormal adventures that keep her readers on the edge of their seats. She has 31 works in progress with Harlequin. Now living in northwest Arkansas, she isn't wrangling cattle, she's wrangling her muses, a malti-poo and yorkie. When she's not at her computer, she's traveling, out snow-skiing, boating, or riding her ATV, dreaming up new stories.