We're thrilled to have the kick-off post in Harlequin TEEN's latest blog tour for Indigo Awakening by Jordan Dane, the first book in The Hunted series, which is on sale now. Today we get scoop about the book from a real insider: Jordan Dane's editor, Mary-Theresa Hussey! Keep reading for a Q&A with Mary-Theresa about the book and her work as an editor, plus a chance to win a copy of Indigo Awakening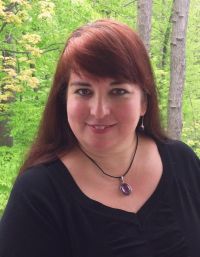 Editor bio: Mary-Theresa Hussey is a rarity in publishing, having been with the same house for over twenty years. A strong supporter of genre fiction, she works with Harlequin TEEN authors such as Rachel Vincent, Aimée Carter, Maria V. Snyder and Jordan Dane as well as SF authors Michelle Sagara, C.E. Murphy, Laura Anne Gilman and romance authors like Stella Bagwell, Meredith Fletcher and Addison Fox
 1.)    How did Jordan end up in the hands of an executive editor at Harlequin?
Jordan has a wonderful agent that I've worked with before. I know Meredith Bernstein also works with other editors at Harlequin, but I think she knew that I love the evocative writing that captured me from the moment I read the title of In the Arms of Stone Angels. And I'd read some of Jordan's adult work, so I knew Jordan would be able to keep a tight pace and create interesting stories and characters. Jordan is great to work with—she tries to understand where and why I have concerns and resolves them in a way that's honest with her world and intentions.
 2.)    What will readers find most intriguing about the world of Indigo and Crystal children in the Hunted series?
I think the most intriguing element is that the potential is really there for this future and change to humanity. It does seem that people are evolving and the possibility that we can expand our mental abilities is just beyond our reach. And I can clearly see how these abilities could be a threat to those who want to keep the status quo—and especially when the connections these teens forge with each other weaken the adults' power base. Too, the powers and levels of each ability are different, so wondering what mental power you might have and how you'd react to discovering it could lead to fascinating discussions!
 3.)    Which character in Indigo Awakening is your personal favorite and why?
Hmm. I guess I admire Gabe the most. While Rayne is the normal girl, and we appreciate her gradual immersion into this world, I really liked Gabe's struggle from the start. He wants to be isolated, he wants to protect others by staying away, and yet his caring nature won't allow Rayne to face this struggle alone. Plus he's got a cool dog! J
 4.)    What is a typical day in the life of an editor?
The best thing about being an editor is that there is no typical day! Today, for instance, I spoke with some colleagues about upcoming schedules, had a meeting about some digital opportunities, worked on an Art Fact Sheet (a document we use to submit ideas for the cover to the art department), checked on the Harlequin.com website to answer questions for authors, checked on Twitter for a few breaks and to see what else is going on (quiet this time as it's close to the holidays), finished up a revision letter to send to an author and spent a lot of time reading and answering emails!
Once the business day slows a bit, I'll read another manuscript that was just submitted to me. Editors need to juggle a number of things—what's happening with books out this month, dealing with the production process for books out three to five months from now, writing copy for books being published in six months, doing AFS for those scheduled in seven months, editing books due about eight months from now, working on revision letters for things out further, and always searching for new projects so we'll be able to buy new books and authors and deliver new projects to the readers! Keeping lists is very important as is the ability to move from one thing to another quickly and then pick up the first thing again in a later stage. Each manuscript is touched by many people at the publisher, and our goal is to make sure it's the best book possible.
* * *
Contest: Want to win a copy of Jordan Dane's Indigo Awakening? We have one book to give away to a lucky commenter! To enter, leave a comment telling us if YOU would like psychic powers like the characters in the book — and why or why not?
Giveaway closes January 13 at 11:59pm EST. One winner will be selected by random number draw from all eligible comments and announced on January 14. Open to residents of the United States and Canada only. For full official rules, click here.
Update: giveaway is now closed. Please check the comments to see who won!
Learn more about Indigo Awakening and The Hunter series from Harlequin TEEN by following the rest of the blog tour. More prizes await!
* * *
About Indigo Awakening:
Because of what you are, the Believers will hunt you down.
Voices told Lucas Darby to run. Voices no one else can hear. He's warned his sister not to look for him, but Rayne refuses to let her troubled brother vanish. On her desperate search, she meets Gabriel Stewart, a runaway with mysterious powers and far too many secrets. Rayne can't explain her crazy need to trust the strange yet compelling boy—even though he scares her.
They discover Lucas is running from the Believers, a fanatical church secretly hunting psychic kids—gifted "Indigo" teens feared to be the next evolution of mankind. Now Rayne's only hope is Gabe, who is haunted by an awakening power—a force darker than either of them imagine—that could doom them all.