By Kendra Leigh Castle, author of Taming the Dragon (Harlequin Nocturne Cravings, December 2012)
When I was given the opportunity to write some short stories for Cravings, I knew immediately that one of my heroes would be a dragon.  What's not to love?  Dragons are hot, both literally and figuratively, they're incredibly powerful, and they're fiercely protective of what's theirs.  In short: perfect paranormal hero material.  This month, readers will get to meet my dragon, Kaden St. George, in my story Taming the Dragon.  He immediately proves to be quite a handful for his heroine, Tess McGarry, so I thought I'd put together a short list of helpful hints in case anyone ever meets a dragon of her own.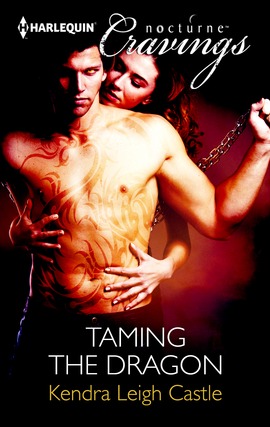 1.  If at all possible, don't wake a dragon out of a sound sleep.  They're grouchy at the best of times.  Rudely awakened is not anywhere near "the best of times."
2.  Don't touch their stuff.  Dragons are notorious hoarders of sparkly and expensive treasure, and they prefer to count it, look at it, or sleep on/in it to cashing in on it.  In short, it's kind of an emotional attachment.  Touch the stuff of an enormous fire-breathing reptile at your peril.
3.  Don't bother telling a dragon "no."  They're notoriously stubborn, and a denial is only going to make whatever you're saying "no" about more attractive.  Additionally, the dragon temper comes with a built-in flamethrower.
4.  Don't bring one home…unless you're really like it to stay.  Dragons build nests where they want.  If he likes your house, that's where the cozy, treasure-filled new nest goes.  if you don't like it, well…see number three, above.
5.   If you should happen to find a dragon in his inevitably irresistible human form, remember one thing before you get carried away with visions of a fun night out: dragons don't date, they mate.  One minute you're chatting over coffee, the next, he's decided you're part of his "stuff."  Not ready for commitment?  Again, see number three.  You've been warned.
And finally…
6.  If you're brave enough to risk everything for a happily ever after beyond your wildest dreams, ignore hints one through five.  Tess McGarry did, and I'm positive she wouldn't trade her firebreathing, treasure hoarding hero for anything in the world…hers or his.
So what do you think?  Would you risk a date with a dragon, or would you rather slip away with a different creature of the night?
Happy reading!
 * * *
Kendra Leigh Castle is the author of Taming the Dragon, Reflected Desire, the RITA-nominated Renegade Angel, and the upcoming werewolf story The Wolf's Surrender from Harlequin Nocturne.  She also writes the Dark Dynasties series.  Kendra lives in Maryland with her husband, three kids, and menagerie of pets, and can be found at www.kendraleighcastle.com, Facebook, Twitter, and Pinterest.