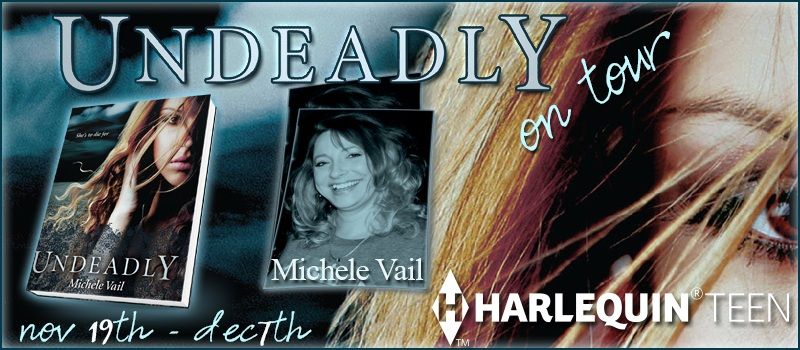 What if you could raise the dead?
That's the question in Michele Vail's new book from Harlequin TEEN, Undeadly (book one of The Reaper Diaries series). To celebrate its release, author Michele Vail gives us a sneak peek into the world of Undeadly with a snippet from the student handbook from the Nekyia Academy — a school for necromancers — and you can enter to win a free copy! Keep reading for giveaway details and a rundown of the rest of the blog tour…
About Undeadly:
The day I turned 16, my boyfriend-to-be died.

I brought him back to life.

Then things got a little weird…

Molly Bartolucci wants to blend in, date hottie Rick and keep her zombie-raising abilities on the down-low. Then the god Anubis chooses her to become a reaper—and she accidentally undoes the work of another reaper, Rath. Within days, she's shipped off to the Nekyia Academy, an elite boarding school that trains the best necromancers in the world. And her personal reaping tutor? Rath.

Life at Nekyia has its plusses. Molly has her own personal ghoul, for one. Rick follows her there out of the blue, for another…except, there's something a little off about him. When students at the academy start to die and Rath disappears, Molly starts to wonder if anything is as it seems. Only one thing is certain—-Molly's got an undeadly knack for finding trouble….
* * *

From the Nekyia Academy Student Handbook: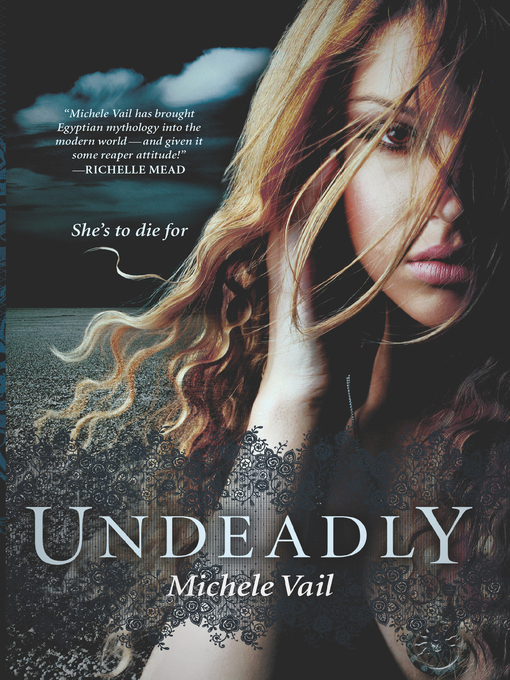 At Nekyia Academy we expect students to operate within a code of conduct that promotes excellence in education and personal integrity. Nekyia has a proud tradition of training some of the best necromancers in the world, and we take our role as nurturers of your future very seriously. So, should you.
Every necromancer is responsible for his/her own learning, both in academics and training in their heka power.
Every student has equal inherent worth and deserves to be treated respectfully.
All our students must challenge themselves to perform beyond expectations in the classroom and in their personal lives.
We do not tolerate the use of personal SEER machines, and will remove such devices from the campus. The first offense will result in suspension for one week. If there is a second offense, the offending student will be expelled.
Creating ghouls was outlawed in 1974. Ghouls currently in existence are allowed to perform their duties and to remain attached to their families. Ghouls are protected under federal law and any abuse of ghouls will result in being charged with a crime and expulsion from our campus.
Using necromancy for purposes other than education or training may result in restriction of privileges, in-school suspensions, or if the use is found to be against necromancy law, convening of a school tribunal. Illegal use of magic or forbidden necromancy objects will result in a thorough investigation. We are required to inform Necro-Guardians should such abuses occur.
* * *
Giveaway info: Want to win a copy of Undeadly? We have one up for grabs! To enter, leave a comment here by November 29 at 11:59pm EST. Winners will be selected by random number draw from all eligible comments and announced on November 30. Open to residents of the United States and Canada only. For full official rules, click here.
Good luck!
UPDATE: The giveaway is now closed. Please check the comments for the winner announcement.
* * *
Follow the rest of the Undeadly Blog Tour: