by Lauren Hawkeye, author of The Darkling's Desire (Harlequin Nocturne Cravings, November 2012)
I can't count the number of times over the last few years that I have read a blog post, or received an e-mail, or received a Tweet declaring that vampires are "over". Over in this case means that publishers no longer want to see vampires—and that, of course, means that readers aren't buying it.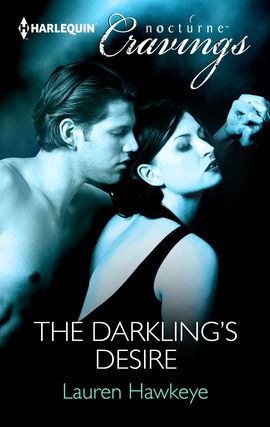 And then a week, two weeks, a month later? Those vampires are back—they are immortal, after all.
So why do we love vampires so much? The creatures are, after all, often portrayed as vicious, selfish, opportunistic and cruel—a slave to the beasts inside of them. And yet interest in them is ancient.
There are many surface reasons that vampires are sexy. They represent the ultimate bad boy archetype. They're often rich, almost always attractive, smart, and fearless. They're alpha to the core, and dominate their women entirely. And here is the crux of it all. What other genre does this remind you of?
The recent and massive upswing in popularity of BDSM-tinged romance tells us that readers—particularly female ones—are finding something enthralling about rich (billionaire?), attractive (eligible bachelor?), dangerous (whips and chains, anyone?) men in general. Vampires, CEOs—at the core, aren't these characters very much the same?
This isn't a Freudian type of fulfillment for the reader, where women are enticed by the symbolic impaling of fangs in a neck or toys in, ahem, other places. It's not a need to be dominated, either, whether that domination is with fangs or with floggers.
In the end, this kind of story, CEO or vampire, is about that bad, bad boy ultimately surrendering to the heroine.
And what woman doesn't want that?
  * * *
Lauren Hawkeye is a writer, yoga newbie, knitting aficionado and animal lover
who lives in the shadows of the great Rocky Mountains of Alberta, Canada. She's
older than she looks—really—and younger than she feels—most of the time—and she
loves to explore the journeys that take women through life in her stories. Hawkeye's
stories include erotic historical, steamy paranormal, and hot contemporary.
Make sure to check out her work as Lauren Jameson, where her erotic romances
take a walk on the wild side.