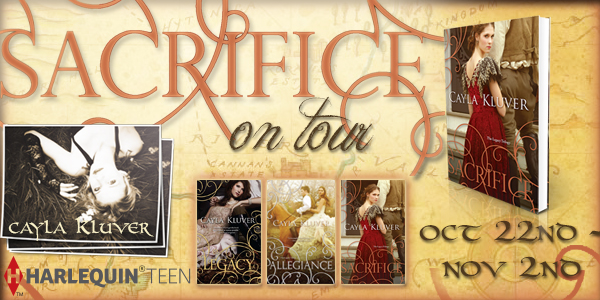 To celebrate the release of the final book in the Legacy trilogy by Cayla Kluver, Sacrifice (following Legacy and Allegiance), we've asked bloggers to share five reasons why they love this series. So for our post today, we're going to share our five favorite reviews that this series has received:
"Teenage author Kluver makes her debut with this series first set in the fictional kingdom of Hytanica. Readers will empathize with Princess Alera who is struggling beneath the weight of her parents' royal expectations and her own desire to explore a world much broader than the one she has been offered. Kluver has brought to life a wide cast of characters each rich with detail. Fans of young adult, historical fiction and fantasy will all be anxious for the next novel in this brilliant world. (This book was previously released by an independent press.)" – RT Book Reviews on Legacy
"This book made me feel like I was living in the Castle sneaking amongst the guards to watch the fabulous parties the Queen hosted. I definitely recommend this book. I can't wait for book two!" – Flamingnet Young Adult Book Reviews Top Choice Award on Legacy
"I am quite simply in love with Hytanica and cannot wait to see where Kluver takes the story next." – San Francisco Book Review on Allegiance
"With fast-paced action and family drama, Kluver's series second triumphs! Fans will feel like they can step into the fantasy world and will pine for hero Narian along with heroine Alera." – RT Book Reviews on Allegiance
"…this tale rises above genre by including thought-provoking elements that examine the role of women, family allegiances and the damaging nature of prejudice." – Kirkus Book Reviews on Sacrifice
* * *
Giveaway: Here's your chance to win a copy of Sacrifice! To enter, just leave a comment telling us YOUR favorite fantasy series. We can't wait to hear about the books you love–and maybe find some additions to our To Be Read pile!
Contest closes November 11 at 11:59pm EST. Winners will be selected by random number draw from all eligible comments and announced on November 12. Open to residents of the United States and Canada only. For full official rules, click here.
Update: the giveaway is now closed. Please check the comments to see who won!
This is not the time for the fight to end. Now is when the fight will begin. This is the time to regain what has been lost.

This is a story told by two:

ALERA – Queen of a fallen kingdom, secretly in love with the enemy.

SHASELLE – Daughter of a murdered father, rebel with a cause.

One was ruler Hytanica, but now walks the razor's edge to keep the fragile peace in her beloved homeland. The other slips through the war-torn streets, seeking retribution for her family's tragedy, following whispers of insurgency.

Both face choices that will separate them from those they cannot help but love. As their stories intertwine, a conspiracy ignites that may end in slavery or death—or lead to freedom anew, if only each can face what must be sacrificed. Told in part from within the castle by Alera and in part outside the walls by a new character, Shaselle, Sacrifice showcases the final epic battle for love and freedom.
The Legacy trilogy:
Book 1: Legacy (available now)
Book 2: Allegiance (available now)
Book 3: Sacrifice (November 2012)
Follow the rest of the Sacrifice Blog Tour: