by Katie Reus, author of A Jaguar's Kiss (Harlequin Nocturne Cravings, October 2012)
Thanks so much for stopping by today! I don't know about you, but October is one of my favorite months of the year. I love ringing in a new season because change is always fun and of course, this month rocks because of Halloween! I might be an adult but I still like to dress up. And this year I have a little one so I have an excuse for matching costumes (please, no mocking). Here are some things that make this October fun for me: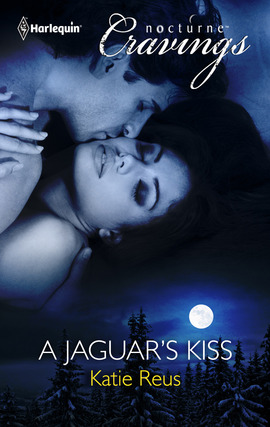 1. Halloween – pumpkin carving, candy corn, scary movies, and chocolate!
2. The leaves and weather are starting to change and everyone always seems to be in a better mood.
3. I can finally start wearing boots again! For this born and raised Florida girl (I don't live there anymore), I'm a big fan of getting to change my footwear.
4. Chocolate is on sale everywhere!
5. There are a lot of amazing new releases this month, some of which I've been waiting for close to a year. My kindle is about to overload.
6. I have an excuse to decorate with a paranormal theme!
7. A Jaguar's Kiss releases this month! Yes, that's a little bit of promo, but it's definitely one of the reasons I'm happy about this October.
What about you? What are some of your favorite things about October?
Leave a comment and be entered to win a digital copy of A Jaguar's Kiss. Open to all readers, 18 years or older, in US or Canada, who are legally allowed to participate in such a contest as allowed by their local laws. Open until Friday, October 19, 2012 at midnight Central. All federal, state, local, and municipal laws and regulations apply. Void where prohibited. No purchase necessary. By participating in the contest, participants agree to be bound by the decisions of the contest sponsor, Katie Reus.
If you like reunited lovers stories with a side of paranormal goodness, I hope you check out A Jaguar's Kiss:
Owen Wright, alpha of his wolf pack, hasn't seen jaguar shifter Gabriela Segura in nearly ten years. She was his first love—until he did something to drive her away just as their relationship was heating up. Now Gabriela has returned to Montana, and his craving for her is stronger than ever.
But a recent string of brutal attacks on humans have the wolves suspicious of the jaguars, threatening the tenuous peace between the packs. Before he can claim Gabriela as his mate, they must join forces to prove her family's innocence and track down the true predator.
A little about Katie: I've been reading romance since a young age—ever since I discovered my mom's hidden stash. Luckily the addiction stayed with me into adulthood. I'm the author of the Moon Shifter series for NAL/Signet Eclipse and I also write paranormal romance and sexy romantic suspense for Carina Press and Harlequin Nocturne. To learn more about me please visit my website, my blog, facebook or find me on twitter @katiereus.