By Renee Field, author of Claiming the Temptress (Harlequin Spice Briefs, October 2012)
Why do we love the gods? Because they're immortal and represent the best of humanity in beauty, strength and courage. I love to take a myth and make it my own. The waves of the Atlantic Ocean were and still are my backyard and playground so when I started my writing career it felt natural to start with what I knew. I'm comfortable writing stories featuring titans and sirens (some people call them mermaids and merpeople, but really, they don't like that) and I've always had this fascination with life in the seas. The seas are a mystery.
I kept this note from a reporter who worked for the Vancouver Sun. "About 40 years ago, we sent 12 astronauts on six different missions to the surface of the moon, 400,000 kilometres away. Ten years prior, in 1960, two aquanauts dove 11 kilometres below the surface in a submarine, to the deepest part of the ocean in the Marianas Trench. In the 50 years since, not one person has been that deep, only two unmanned remotely operated vehicles (ROVs)." http://www.oceanleadership.org/2011/world-ocean-day-why-should-we-know-more-about-the-moon-than-our-oceans/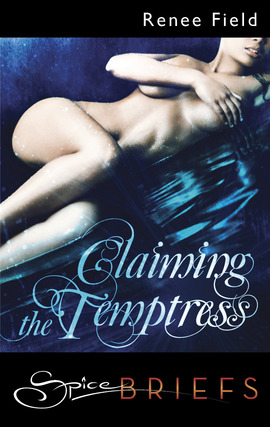 The first book I wrote featuring sirens didn't play with the god myth so much but Claiming the Temptress and Claiming Poseidon's Heart certainly do. I wanted to write about Poseidon—he's probably going to kill me when he reads this, but lucky for me his wife just so happens to be a good friend. Plus Soki, Poseidon's wife, knows if I die, no one else will supply her with the scientific periodicals she likes to read.
Claiming the Temptress is a light, sexy read featuring Lily, Poseidon's daughter, who trust me, has behaved herself for enough years to make a saint weep. Lily, while a goddess, is like most women who live with a very controlling, strong-willed father. She wants to set her own destiny, find her own mate and if need be will even flee to the earth realm for maybe her one night of pleasure.
Fate is always at play with the gods and all my stories feature how they like to string people and the gods along. Now, I've had a number (long number, okay) of years to deal with the gods and their offspring (in all their many forms).  My family keeps hoping I'll leave them alone. Seriously, why would I? Most of them are immortal and when you have the lottery-of-life ticket , life has a way of making their lives funny. I'm sure they don't think that when they're battling evil or killing the wandering humans who continually try to find their true homes, but to me, it's all part of my writing imagination.
I should warn readers Claiming A Siren's Heart, debuting soon, was a hard story to write. It meant writing a goodbye story to a good navy friend of mine who found his true love thanks to a night of thievery. If you want to read more siren stories check out Rapture, set in Halifax, Nova Scotia and just maybe you'll learn more about my so-called wonderful love of the oceans.
What do you love about the sea? What god is your favorite (that will make their day)? Drop me a note. I'm giving away a $25 Amazon gift card plus an e-copy of Claiming the Temptress and Claiming Poseidon's Heart to one lucky person.