by Amy Wilkins, Harlequin Digital
October is the month of Halloween–which creates the perfect atmosphere for reading a slew of new paranormal romances hitting the shelves (physical or virtual 🙂 ) this month. Here's the roundup of what Harlequin has in store for paranormal fans this month…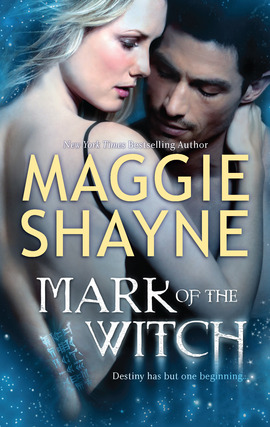 Mark of the Witch by Maggie Shayne (Part of The Portal series, Harlequin MIRA)

She was born to save what he is sworn to destroy
A lapsed Wiccan, Indira Simon doesn't believe in magic anymore. But when strange dreams of being sacrificed to an ancient Babylonian god have her waking up with real rope burns on her wrists, she's forced to acknowledge that she may have been too hasty in her rejection of the unknown. Then she meets mysterious and handsome Father Thomas. Emerging from the secrecy of an obscure Gnostic sect, he arrives with stories of a demon, a trio of warrior witches–and Indira's sacred calling.
Yet there's something even Tomas doesn't know, an inescapable truth that will force him to choose between saving the life of the woman he's come to love–and saving the world.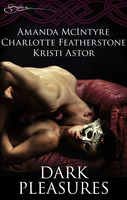 Dark Pleasures by Amanda McIntyre, Charlotte Featherstone and Kristi Astor (Harlequin Spice — ebook exclusive)
Guard well your desires
what ere' they may be
for the Dark Lords scour the night
looking for thee…

Centuries-old legends tell of enchanted forests, said to house otherworldly beings who hold court in the deepest, darkest part of the woods. During the festival of Samhain, when the veil between the realms of reality and wonder grow thin, the Dark Lords are relentless in their carnal quest to dominate a maiden's soul.
FRANCESCA
An enigmatic suitor with drugging kisses offers an ageing opera star all she has longed for: a dazzling career and a lifetime of unbridled passion, but she may choose only one…
CELESTE
With the festival of Samhain drawing near, a peculiar restlessness hovers over a young maiden, drawing her ever deeper into the night woods where a fallen angel seeks to claim her…
MADELINE
Imprisoned in a loveless marriage, Lady Briarton yearns for escape with a passionate stranger, but her unearthly saviour is not what he claims to be…
Forever Werewolf by Michele Hauf (Harlequin Nocturne, with bonus story Moon Kissed)
Alexis Connor, princess of the Alpine pack and pureblood werewolf, hides a painful secret—she has never shifted. If she can't shift, she can't mate, and so Lexi resigned herself to a lifetime of loneliness. But then a stranger arrives, and Lexi senses that her world will never be the same….
A massive avalanche might be to blame for Trystan Hawkes getting stuck at Castle Wulfsiege, but after one look at Lexi, Trystan is not about to leave. Lexi is strong, smart and incredibly sexy. Not that it matters. Tryst is an omega—the fabled lone wolf. Even more damning is his mixed vampire heritage.
Lexi knows that the vampire blood running through Tryst's veins makes him off-limits, but what if he's the one man who can rouse her inner wolf?
The Wolf Princess by Karen Whiddon (Harlequin Nocturne, with bonus story One Eye Open)
Trouble. Princess Alisa senses it instantly when she first meets Braden Streib, the mysterious specialist her parents summoned from America to stimulate her shape-shifting cycles. At first—and unlike her many suitors—this confident, swarthy outsider in dark sunglasses seems indifferent to her royal status. But Alisa's essence soon whispers to Braden, a Halfling, of untamed talents that could prove devastating—as well as impossible to resist. Her abilities, if properly aroused, might be her kingdom's only hope. For amid the pomp and secrecy of the court, Braden and Alisa are about to confront an extremist enemy—and an unexpected passion beyond their wildest imaginings….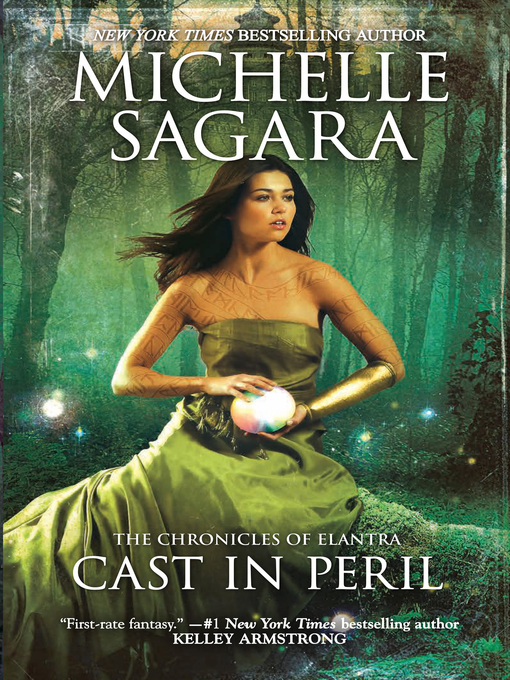 Cast in Peril by Michelle Sagara (Part of the Chronicles of Elantra series, Harlequin Luna)
It has been a busy few weeks for Private Kaylin Neva. In between angling for a promotion, sharing her room with the last living female Dragon and dealing with more refugees than anyone knew what to do with, the unusual egg she'd been given began to hatch. Actually, that turned out to be lucky, because it absorbed the energy from the bomb that went off in her quarters….
So now might be the perfect time to leave Elantra and journey to the West March with the Barrani. If not for the disappearances of citizens in the fief of Tiamaris–disappearances traced to the very Barrani Kaylin is about to be traveling with…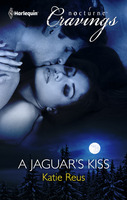 A Jaguar's Kiss by Katie Reus (Harlequin Nocturne Cravings)
Owen Wright, alpha of his wolf pack, hasn't seen jaguar shifter Gabriela Segura in nearly ten years. She was his first love–until he did something to drive her away just as their relationship was heating up. Now Gabriela has returned to Montana, and his craving for her is stronger than ever….
But a recent string of brutal attacks on humans have the wolves suspicious of the jaguars, threatening the tenuous peace between the packs. Before he can claim Gabriela as his mate, they must join forces to prove her family's innocence and track down the true predator.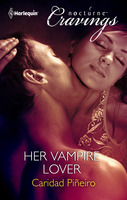 Her Vampire Lover by Caridad Pineiro (Harlequin Nocturne Cravings)
American high school teacher Sonja Dubcek hopes her vacation in Prague will be filled with beauty, history, and maybe a little romance. But reality proves better than fantasy when a chance encounter with a sinfully sexy count turns her journey into an erotic adventure.
Gregori has never met a woman who arouses his desire–and his vampire's hunger–the way that Sonja does. After only one taste, he craves more than just her flesh and blood. He invites her to be his guest, but soon fears what he might do to keep her with him forever…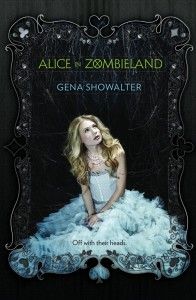 Alice in Zombieland by Gena Showalter (Part of the White Rabbit Chronicles, Harlequin TEEN)
She won't rest until she's sent every walking corpse back to its grave. Forever.
Had anyone told Alice Bell that her entire life would change course between one heartbeat and the next, she would have laughed. From blissful to tragic, innocent to ruined? Please. But that's all it took. One heartbeat. A blink, a breath, a second, and everything she knew and loved was gone.
Her father was right. The monsters are real.
To avenge her family, Ali must learn to fight the undead. To survive, she must learn to trust the baddest of the bad boys, Cole Holland. But Cole has secrets of his own, and if Ali isn't careful, those secrets might just prove to be more dangerous than the zombies.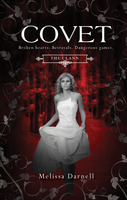 Covet by Melissa Darnell (Part of The Clann series, Harlequin TEEN)

Dangerous to be together. Painful to be apart.
Savannah Colbert knows she broke up with Tristan Coleman for the right reasons. Most of all, to keep from killing him with her new vampire abilities. But try telling her heart. Now, lost in a sea of hostile Clann faces, Sav tries to come to terms with what she's becoming and what that means for her future. And that someone is doing their best to bully her into making a terrible mistake.
Tristan can't believe Sav won't even talk to him. If being apart is her decision, fine. Just don't expect him to honor it. But even as he prepares to fight for the girl he loves, forces beyond their control take them both in directions neither could have foreseen or prepared for.
A reckoning is coming…and not everyone will survive.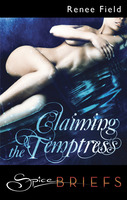 Claiming the Temptress by Renee Field (Harlequin Spice Briefs)
After centuries of slavery to Poseidon, demi-god Rourk has finally won his freedom–and the hand of Poseidon's daughter, Lily. She's a temptress he's long desired to claim, but she's unaware that Rourk is her intended husband. When Lily escapes to Earth to indulge in carnal delights before what she assumes will be a passionless marriage, Rourk is hot on her trail. He may be able to convinces her to return home–but in exchange, he must grant her a night of pleasure….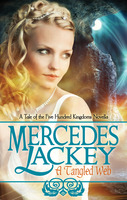 A Tangled Web by Mercedes Lackey (Part of Tale of the Five Hundred Kingdoms – previously published in the anthology Harvest Moon,, Harlequin Luna)
Kidnapping Persephone should have been an easy task. But in the Five Hundred Kingdoms, nothing's ever simple–and the wrong blonde goddess is stolen by mistake, leaving Prince Leopold without his new bride. At least until he braves the realm of the dead to get her back…