New York Times and USA TODAY bestselling author Megan Hart has a new sexy short story out this month from Harlequin Nocturne Cravings. Combine a haunted apartment building with red-hot passion and you get Reawakened Passions! Here's more from Megan….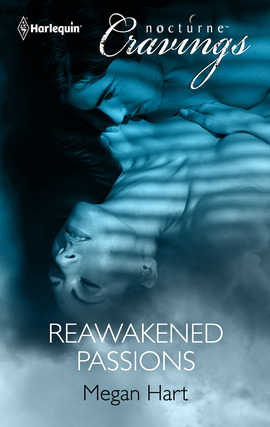 Q: The apartment building setting in Reawakened Passions plays an important role in your story. What is going at The Valencia?
Creepy stuff! Lots of creepy, spooky stuff! Seriously.
Q: Do you believe in ghosts or spirits? What would you do if you ever encountered one?
Megan: I do believe! And I would be so scared if I ever encountered one, I would probably have an embarrassing incident.
Q: Your hero and heroine, Jon and Melissa, have a steamy and emotional bond. How would you describe the characters and their relationship?
Megan: I'd say that he's cautious and she's sort of impulsive, but they bring out the best in each other.
Q:  You write a variety of genres, but what is it about paranormal stories that sparks your interest?
Megan: I like making stuff up, and in paranormal, you REALLY get to make stuff up, because hey, when you're writing about the fantastic and strange, there's not really anyone to tell you it's wrong. (Well, someone will always tell you you're wrong, but that doesn't mean they're right!)
Q: What other new books do you have coming up soon?
Megan: I have a new erotic fiction story, The Space Between Us, out in September as well as another Cravings story (shhhh, it's not written yet!) up ahead.
About Reawakened Passions:
 The faint scent of lilac in the air, the far-off tinkle of a music box, doors that won't stay shut… Melissa Benjamin likes to think the strange happenings at The Valencia add character to the apartments. And when a tall, reserved and seriously sexy new tenant moves into 1-B, there's even more to like.

Jonathan Adams helps send spirits trapped in this world onto the next, but he finds more than he bargained for in the haunted old building. He doesn't see ghosts, he feels them–and shares their memories of pleasure. Whoever he's sharing his apartment with wants Mel almost as much as Jon does–and will go through Jon to have her….