by Stephanie Chong, author of The Demoness of Waking Dreams (Book 2 of the Company of Angels series, Harlequin MIRA, September 2012)
In every woman, there's a little bit of Bad Girl.  Even the best of us secretly dream of being fearlessly seductive, with the power to make men fall at our feet.  We are taught to be good, kind and sweet.  We may dream of being bad girls, but most of us never do more than dream…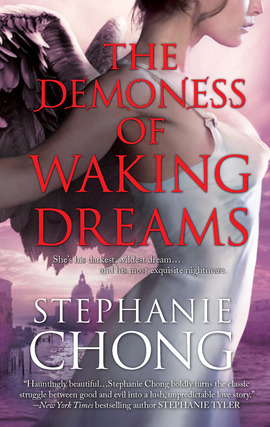 Luciana Rossetti doesn't just dream.  She's a Rogue demoness who uses the power of dreams to get whatever – and whoever – she wants.  She exists for pleasure, and she'll stop at nothing to get it.  Men fall at her feet – usually dead.
As a character, Luciana came screaming out of Book I of my "Company of Angels" series, Where Demons Fear to Tread.  She started off as a secondary character, the hero's ex-lover.  Somehow, she even ended up taking over the first book's prologue, managing to shove her way into the spotlight in a story that didn't belong to her.
By the time I finished writing the first novel, Luciana was practically holding me hostage.  She demanded her own book.  Who was I to argue?  I'm just the writer.
Like I said, she gets what she wants.
As the heroine of Book II, The Demoness of Waking Dreams, Luciana finally meets her match.  Opposites attract.  There's no one better than to tame a bad girl than a good guy.  Enter Brandon Clarkson, ex-cop with a tough guy exterior.  He's the Guardian angel sent to track Luciana down.  With a rock-hard, tattoo-covered body and rain-grey eyes, he's the kind of hero whose arms you want to melt into.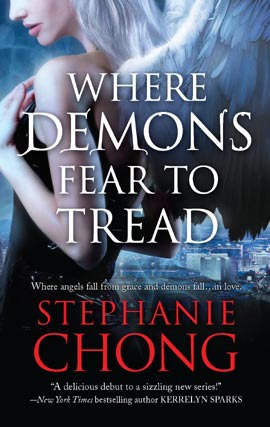 Brandon is every bit just as strong, determined and stubborn as Luciana.  He's as good as she is bad.  He first sees her kneeling in the chapel of a renaissance church, about to embark on her hunt for an annual human sacrifice.  There, he sees something in her that touches him deeply.  What is it about this bad girl that draws him in?
In the darkly glittering city of Venice, bad girl meets good guy – who will win?
Watching those questions unfold on the pages of the novel was an amazing experience for me as a writer.  I felt like I was wandering the streets of Venice along with the characters.  Not a Venice I've ever visited in real life, though.  Because the world these characters inhabit might exist alongside the human world.  But it's a world full of secrets.  Of magic.  And of miracles.
When it comes to paranormal romance, bad girls are evil.  But good guys are divine.