Summer, Winter, Iron…where do you belong?
Author Julie Kagawa and HarlequinTEEN are hosting a blog tour for The Iron Legends, a new anthology featuring the novellas Winter's Passage and Summer's Crossing for the first time in print, plus a brand-new novella Iron's Prophecy and the expanded guide to the Nevernever!
Since The Iron Legends includes stories from all three faery courts, we wanted to provide a recap of what each court is all about and gather votes to see what court is everyone's favorite! For today's blog tour stop, we're touting the Iron Court and providing a summary of the book that started it all, The Iron King.
About The Iron King:

Meghan Chase has a secret destiny; one she could never have imagined.

Something has always felt slightly off in Meghan's life, ever since her father disappeared before her eyes when she was six. She has never quite fit in at school or at home.

When a dark stranger begins watching her from afar, and her prankster best friend becomes strangely protective of her, Meghan senses that everything she's known is about to change.

But she could never have guessed the truth – that she is the daughter of a mythical faery king and is a pawn in a deadly war. Now Meghan will learn just how far she'll go to save someone she cares about, to stop a mysterious evil no faery creature dare face; and to find love with a young prince who might rather see her dead than let her touch his icy heart.
If you haven't read The Iron King yet, we recommend it as the best way to start your journey into Faery.
Now for the contest and voting
Below we have shared the chance to win a copy of The Iron Legends and an Iron Court bracelet as part of the overall blog tour!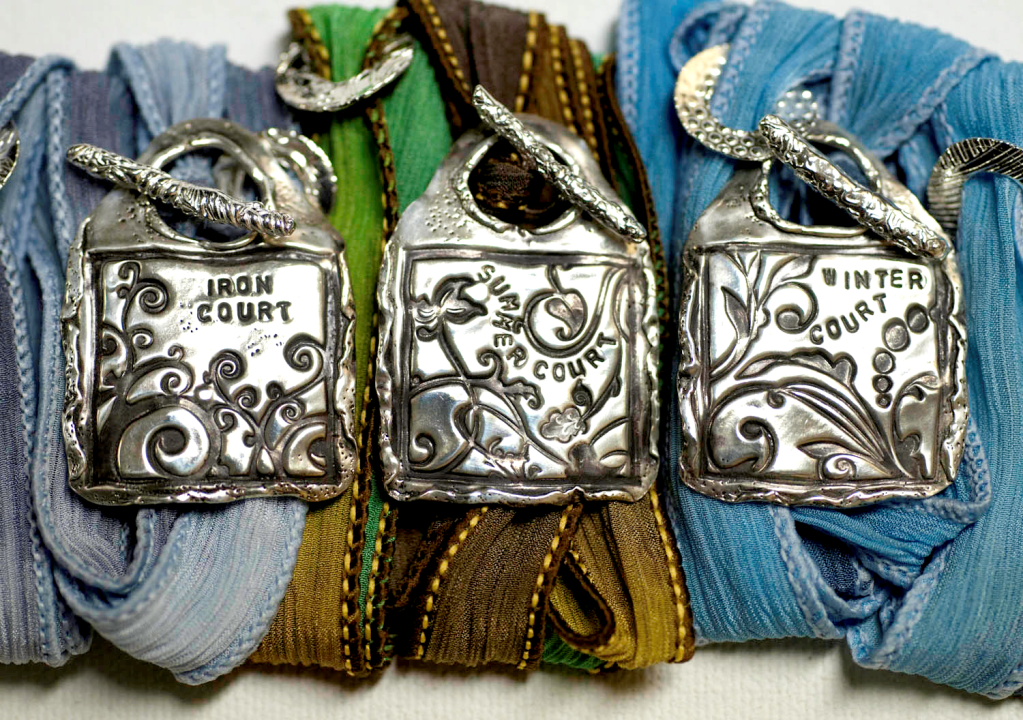 To enter the giveaway, use the Rafflecopter widget below. Contest is being hosted by Kismet. Be sure to vote for the Iron Court!
* * *
To learn more about Julie Kagawa's New York Times bestselling Iron Fey series and for more chances to win books and faery court bracelets, visit these other stops on The Iron Legends blog tour:
Monday, August 20th- Bewitched Bookworms
Tuesday, August 21th – Page Turners – Court: Summer
Thursday, August 23th – Alison Can Read – Court: Summer – Book Iron Daughter
Friday, August 24th – Wastepaperprose – Court: Winter – Book: Winter's Passage
Monday, August 27th- Mundie Mom's – Court Summer – Book Iron Queen, Summer's Crossing 
Tuesday, August 28th – Bookalicio.us – Court: Iron
Wednesday, August 29th – The Unread Reader – Court: Winter – Book: Iron Knight 
Thursday, August 30th – Supernatural Snark – Court: Winter – Book: Iron Prophecy, Iron Legends 
Friday, August 31th – Bewitched Bookworms – Court: Iron – Book: Iron Prince
 * * *
About The Iron Legends – on sale August 28 from Harlequin TEEN:
Enter the world of the internationally bestselling Iron Fey series. Dangerous faeries. Heartbreaking romance. Thrilling action and limitless adventure. The world of the fey has never been so powerful. This collection includes three novellas set in the world of the Iron Fey plus the Guide to the Iron Fey with exclusive information about Julie Kagawa's unforgettable world of Faery.

Winter's Passage

Never make a promise to a faery. They always come to collect. Now Meghan Chase must fulfill her promise to Prince Ash of the Winter Court and embark upon a dangerous journey into the heart of enemy territory—while being pursued by a relentless new foe and guarding her own foolish heart.

Summer's Crossing

What can turn enemies into reluctant allies? A call from the Exile Queen, Leanansidhe, ties legendary prankster Puck to his archenemy, Prince Ash, on a journey that may end in betrayal and will set them both on an irreversible path.

Iron's Prophecy

Before she ever knew what she might become, Iron Queen Meghan Chase was warned by the oracle that her firstborn child would bring nothing but grief. And even as Meghan and Ash celebrate their long-awaited union, the prophecy stirs.…

Three Iron Fey novellas for the first time in print!
(Psst, and don't forget to look for The Lost Prince on October 23, which kicks off a new Iron Fey series starring Meghan's brother Ethan!)