by Jessa Slade, author of Dark Hunter's Touch (Harlequin Nocturne Cravings, August 2012)
Releasing a new book is—or so I imagine—sort of like releasing an orphan wolf back into the wild. See, I found this little idea, not much more than fluff and big, dark eyes. It was so small when I found it, I wasn't even sure it would survive. When it started out, it was kind of stumbling and unsure, but I knew what it could someday be. So I nurtured it, fed it (on the bloody raw meat of my typing fingers!), took it for long rambling walks until it grew stronger, and only a couple of times got bit for my troubles. All the while, I had to make sure I left it wild and free enough to live on its own.
And now, finally, the first book of my new Steel-Born series is in the wild!
Yearning to be free, Imogene has fled the idleness and cruelty of the phae court to hide in the sunlit realm of humans. When the Dark Hunters find her—and they will—she will face the Queen's wrath.

But she is tired of running, and after a chance encounter with a seductively handsome stranger named Vaile, Imogene embraces the earthly passions within her, if only for one night. But has she fallen for a man—or an illusion?
While the courtly realm of the phaedrealii is any/everywhere, Imogene makes her escape to Oregon. If anyplace in our world is magical, it might very well be Oregon where I live. We have mountains and the ocean, old-growth forests and deserts, even wolves! I think magical folk would be quite happy in Oregon. I couldn't find a photo of an Oregon wolf, so here's a picture of my black lab/kelpie who—if I squint—looks vaguely wolfy.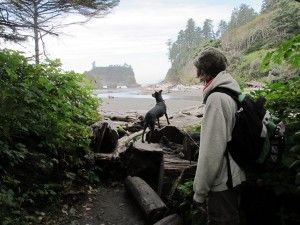 If I squint a little harder, maybe I could be the fey girl, running wild and free on the Oregon coast! (In fact, Chapter 1 opens on the beach; perfect for some summertime reading, so feel free to read an excerpt.)
And in a special reveal just for you, readers, I found out last week that the second book of the Steel-Born, which takes us across Oregon to the mountain valleys, will be called The Mountain Man's Muse. You are the first ones to know!
This week I'm in New Orleans at the Authors After Dark reader convention, celebrating the release of Dark Hunter's Touch with too many beignets from Café du Monde. If you live in the New Orleans area (or have fey powers of your own to whisk you there) please come to the public booksigning Saturday, August 11, 2-4 pm at the Royal Sonesta in the French Quarter. We can go out for beignets afterward!
Now I'm wondering, with all the exotic locales available—such as the wilds of Oregon or the decadence of New Orleans—if you had to make your escape to embrace the earthly passions in you, where would you go?