by Michele Hauf, author of Moonspun (Harlequin Nocturne Cravings, August 2012)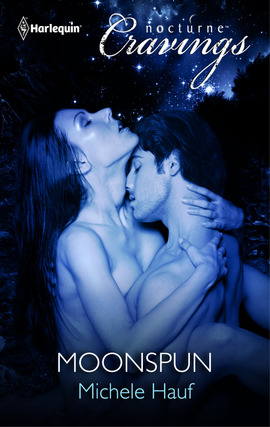 This July marked the publication of my 50th book!  (It was the anthology, Vacation with a Vampire, which featured my story, "Stay".)  After writing that many stories, a person tends to collect a lot of characters.  I actually have a bible for my Beautiful Creatures world (in which most of my paranormal stories are set) and the characters listed in there number beyond 150.  It's incredible to think I created all of them, and some of them can seem as real as a friend.
Two of my favorite characters have to be Blu Masterson (werewolf princess) and Creed Saint-Pierre (sexy, aristocratic vampire).  They had their story in Her Vampire Husband.  I've received more fan mail for that couple than most others.  And those two crazy kids have been begging me to let them have some more page time.  Because their story isn't finished (are the stories for any characters EVER finished?), and Blu, well, she wants a family.  One problem: in my world, werewolves can't get pregnant by a vampire.  That's just not how it works.  Unless of course…they get a little help from Faery.  One should be careful though, when asking a faery for a favor.  
And be very careful when they promise the return boon (a necessity when making a deal with a faery).
So if you're a fan of Blu and Creed, I do hope you'll enjoy their continuing story, Moonspun.  And if you're new to my world, or these characters in particular, you can read the short story first, but I'd recommend reading Her Vampire Husband if you want to know the story behind how they got married.