by Laura Anne Gilman, author of Dragon Justice (part of the Paranormal Scene Investigators series, Harlequin LUNA, August 2012)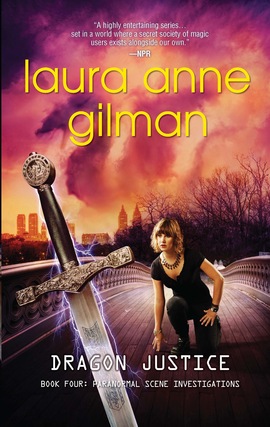 Since DRAGON JUSTICE – PSI #4 – is just out, the traditional thing would be to talk about that specific book.  Instead, I'm going to talk about ten books.
The story starts back in the summer of 2002.  I'm vacationing with my family in Italy, limited cell phone connection, limited Internet connection (it was a long time ago, ok?).  In the middle of all that, I get a message from my agent, and there's this back-and-forthing between time zones, then my ENTIRE FAMILY, even the ones down by the pool, hear me squeal.
Because my agent had gotten an offer on STAYING DEAD and two follow-up books (eventually, CURSE THE DARK and BRING IT ON) to Harlequin, for their then-brand-new Luna fantasy imprint.  The world of the Cosa Nostradamus has gone from being this really cool idea that had been living in my hard drive, to an Actual Book Deal.  Real Books-to-Be.
Wren Valere, a NYC girl with a mind for theft and a Talent for magic.  I figured it would be "To Catch a Thief" with magic, and yeah, there was a bunch of other stuff in the world, but the focus would be on her, and her business partner/eventual love interest Sergei.  I had it all planned out (Virgo, me.  I make lists of my lists).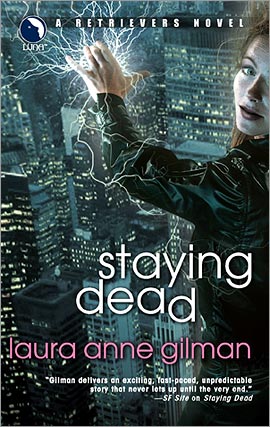 And then suddenly, so fast, it's summer 2004, and STAYING DEAD comes out.  I get good reviews.  It sells well.  Nobody's telling me my career is over.  Can we do this again?  We can.
Remember those plans I'd made?  Well, I kept to them…mostly.  But along the way, the world of the Cosa Nostradamus expanded around me.  Secondary characters became main ones.  Tertiary characters informed me that they had stories to tell, too.  Back history wrote itself, notebooks filled with actual history tied into Cosa history (ask me about 1911.  Go on, ask.).
The Retrievers story arc came to a close, if not a conclusion, after six books, nowhere near where I'd thought the characters would end up and exactly where they needed to be.  Meanwhile, one of those tertiary characters had demanded her own short story, and soon after that, her own series, featuring the "cops" of the Cosa, the Paranormal Scene Investigators (HARD MAGIC, PACK OF LIES, TRICKS OF THE TRADE).   Bonnie Torres went from being a walk-on who wouldn't leave, to one of my favorite characters to write.  Her relationship with the PUPs, and especially Venec, were a constant surprise.  Writing Bonnie was like watching a younger cousin grow up, without actually having to post bail.
And now we fast-forward this story to summer, 2012.  DRAGON JUSTICE is about to come out.  The 4th PSI novel.  The 10th Cosa Nostradamus novel.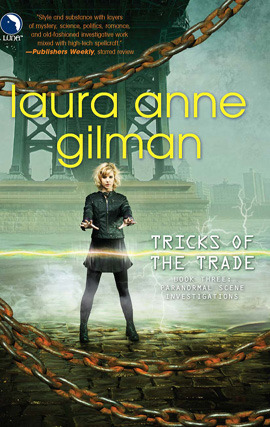 The last Cosa Nostradamus novel.  It's Bonnie's story, yes, but it's also the story of everyone around her – Venec and Pietr, Sharon, Nifty and Nick.  Stosser.   And some old friends.
As with every Cosa story, bad things happen, disaster teeters on the brink, and sometimes, even the most clever magic and heartfelt heroics don't save everyone.  But they save enough.  Because that's what the Cosa Nostradamus has always been about: facing the bad stuff and not flinching, doing the best you can with the skills you've got.  Even, and maybe especially when it hurts.
I didn't know I was planning that, when I started.  But it's all there, so clearly I had A Plan.
There are still Cosa Nostradamus stories I want to tell (and will be told, in short story and novella form).  But for now, DRAGON JUSTICE is closure.  This is what is, and hints of what will be.
A ten-book run, and a decade of love. Wren Valere. Sergei Didier.  Bonnie Torres, and the crew of PSI.  Danny Hendrickson and Treetaller, Rorani, and yes, PB, always PB.  The joy of writing their adventures, and the joy of hearing from readers, after – sometimes long after, as new readers discover STAYING DEAD, and squee that there are nine more books waiting for them.
Thank you for that.  It's been my pleasure, sharing them with you.
As for what gets written next?  Oh, I have a plan….