by Laurie London, author of Seduced by Blood (part of the Sweetblood series, HQN Books, August 2012)
We readers are interesting creatures. What one of us loves, another one hates, and neither are right or wrong. (Unless, of course, we're talking about salt caramels.) A goal I have as an author is to please my own inner reader first. She's my barometer whether something works or not, and if she likes it, chances are, other readers will as well.
Here are five of her likes:
1. Paranormal series with a different hero and heroine in each book.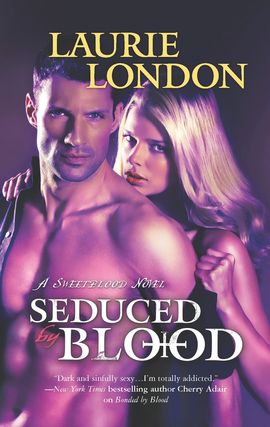 SEDUCED BY BLOOD is Santiago and Roxy's story. Although Santiago is the Guardians' Region Commander and shows up in all three of the previous Sweetblood books, readers don't know much about him till now. Roxy, on the other hand, has only been referred to in the previous books, so this is the first time readers get to meet her in person.
2. Paranormal series that focus on the romance, not on the complex world.
Call my inner reader a romantic at heart. Either that or she gets confused when bombarded with lots of names, places, and interwoven problems. This is why readers won't be lost if they haven't read the other Sweetblood books yet. The overall world revolves around the struggle between Guardian vampires fighting in the shadows against Darkbloods who consider the human race their cattle, but each book stands alone. Even though Dom (Bonded by Blood), Alfonso (Embraced by Blood) and Jackson (Tempted by Blood) show up as secondary characters, the focus in SEDUCED BY BLOOD is the relationship between Santiago and Roxy. Although the backstories and interwoven relationships will be clearer (and you might see a baby or two from a couple you haven't read about yet), readers new to the series won't be lost.
3. Band of Brother alpha heroes.
My inner reader loves bro-mances—the constant bickering and teasing that goes on between strong alpha warriors, and you can't get much more alpha than Santiago. He's bold, brash, controlling and demanding, and expects everyone to get out of his way. Except Roxy didn't get that memo. Which leads me to…
4. Strong heroines who love them.
The women in the Sweetblood world are successful on their own and don't need a man to sweep them off their feet, even though they do. Roxy is the head of Tracker Academy and is very highly respected among the Guardians. To everyone else, Santiago would be difficult to love, but she's able to look beneath his hard exterior and see the incredible man inside. He's passionate, honorable and deeply loyal, risking everything to save his people and make things right in her world. My inner reader sighs and asks, what's not to love about a man like that?
5. Sexual tension and sexy times.
In SEDUCED BY BLOOD after something terrible happens to one of their own, Santiago and Roxy are forced to masquerade as lovers in order to root out a traitor. Not only must they share a room at the Seattle field office, but they also share a bed. Sparks fly between them because they're both very different and neither will submit to the other. This leads to all sorts of fun…which makes my inner reader very happy.