by Lauren Hawkeye, author of The Darkling's Surrender (Harlequin Nocturne Cravings, July 2012)
What draws you to writing paranormal?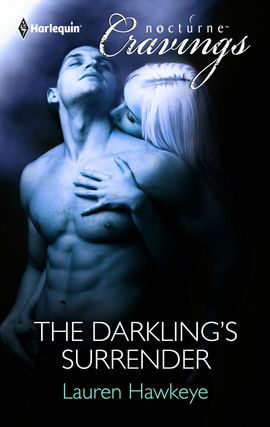 Paranormal is, hands down, my very favorite genre to read. To me, there's just something so sexy about these alpha males who have all of these otherworldly powers—and I love their heroines, too, the ones who have enough strength to challenge a man like that. Paranormal is such an escape to read—it's such a completely different world from the one that I live in day to day. Writing it is just as much fun!
How did you come up with the idea for the world of the Darklings?
My sister was such a help to me with this one. All I knew was that I wanted to write a story about vampires. We sat down and talked it out one day, and came up with the idea of different kinds of vampires—Witchlings and Darklings—and the powers that each would have. From there this whole world grew—I can't say too much more without giving away too much from books two and three, but there are secrets that will be revealed about the world that even the characters don't know.
What can we look forward to in the next book, The Darkling's Desire?
The next book has a different hero and heroine, but picks up where The Darkling's Surrender left off. Aubrey and Gavin both make a cameo in the book. We meet Jasper, who is a Darkling turned during the Civil War, and Harper, who is a Carpathian Amazon, an ancient breed of warrior women who are sworn to hunt down Darklings who fail to follow the rules.
If there was ever a movie or television show based off of the Darkling world, who would you cast as the leads?
Oh, best question ever! Aubrey would definitely be played by Emilia Clarke—she plays Daenerys Targaryen in Game of Thrones. She is spectacular. Gavin would be—hmm. Maybe Chris Hemsworth from Thor. Yummy.
What is your favorite scene in The Darkling's Surrender?
I have a couple, but I really love the second one, where Aubrey decides to embrace her new life, to hunt and feed and survive. It says a lot about her character, I think. And when she encounters Gavin, something delicious happens. It was a lot of fun to write, and I hope it will be just as much fun to read!
Now for my question to readers: How hot is too hot for a paranormal story?