by Amy Wilkins, Harlequin Digital
Looking for some paranormal romances to read this month? July is packed with great new releases from Harlequin, including new books by fan favorites Gena Showalter, Michele Hauf and more. Keep reading for the whole line up!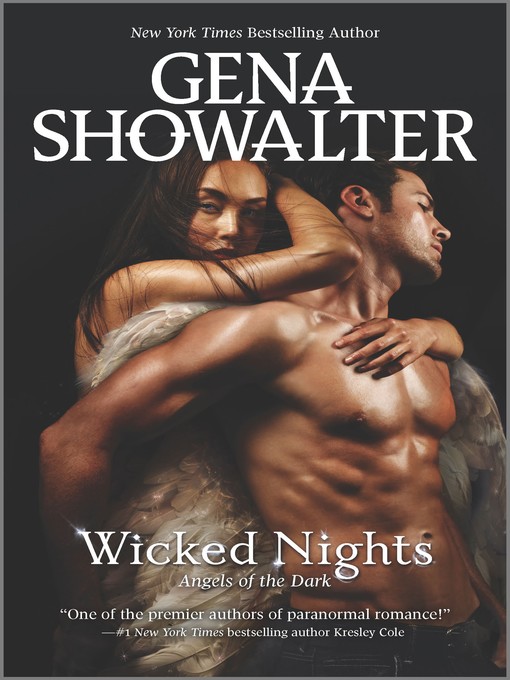 Wicked Nights by Gena Showalter (Book 1 of the Angels of the Dark series, Harlequin HQN)
Leader of the most powerful army in the heavens, Zacharel has been deemed nearly too dangerous, too ruthless–and if he isn't careful, he'll lose his wings. But this warrior with a heart of ice will not be deterred from his missions at any cost…until a vulnerable human tempts him with a carnal pleasure he's never known before.
Accused of a crime she did not commit, Annabelle Miller has spent four years in an institution for the criminally insane. Demons track her every move, and their king will stop at nothing to have her. Zacharel is her only hope for survival, but is the brutal angel with a touch as hot as hell her salvation–or her ultimate damnation?

The Unholy by Heather Graham (Part of the Krewe of Hunters series, Harlequin MIRA)
The 1940s: Hard-boiled detectives and femmes fatale are box-office gold. In one iconic scene, set in a deserted museum, the private eye arrives too late, and the buxom beauty is throttled by an ominous Egyptian priest.
Now: The Black Box Cinema immortalizes Hollywood's Golden Age in its gallery of film noir tributes. But the mannequin of that Egyptian priest is hardly lifeless.
He walks–and a young starlet dies a terrifying death.
Movie mogul Eddie Archer's son is charged with the grisly murder. Eddie calls agent Sean Cameron, who specializes in irregular investigations. As part of an FBI paranormal forensics team, Cameron knows that nightmares aren't limited to the silver screen.
Working with special-effects artist Madison Darvil–who has her own otherworldly gifts–Cameron delves into the malevolent force animating more than one movie monster….
Vacation with a Vampire by Michele Hauf, Kendra Leigh Castle and Lisa Childs (Harlequin Nocturne)
Everyone needs a break sometimes, especially during the summer. After all, what's more relaxing, and more romantic, than a midnight stroll through Paris? Or the way the moon reflects off the ocean? And if your mesmerizing, sexy date happens to be ready to nibble your neck, who would want to say no?
Vacations are a perfect time to indulge, so why not spend a little quality time with these immortal hunks in three luscious tales of hot getaways. Treat yourself to a little bit of summer moonlight with these tales brought to you by Michele Hauf, Kendra Leigh Castle and Lisa Childs.
Dragon's Curse by Denise Lynn (Harlequin Nocturne)
Only the threat of losing her brother could force Ariel Johnson to break out of her predictable existence and into the stronghold of a changeling's ancestral estate. Following him from a mystical island to a remote Appalachian resort, she's trapped between sibling loyalty and an unquenchable desire for a lover who is both beast and man.
But when Cameron Drake's inner beast is awakened by the beauty he would claim for his perfect mate, his human side is not so easily convinced—for he knows Ariel is in the pocket of a sorcerer who wants his family dead.
There are no easy choices for a woman who has yet to embrace her power within. And when love is wrapped in a curse, all will pay to play….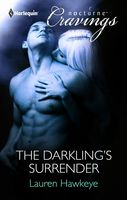 The Darkling's Surrender by Lauren Hawkeye (Harlequin Nocturne Cravings)
Two weeks ago, Dr. Aubrey Hart had still been alive. Now she's a vampire, undead and starving, with a maker who shows no interest in helping her adjust to her new abilities.
Forced to either feed or die, Aubrey is drawn to her former supervisor Dr. Gavin Thibodeau–a man who arouses both hunger and desire. Her irresistible cravings lead them to an explosive erotic encounter and her first feeding. But when her attempt to erase the memory of their night together from Gavin's mind fails, it becomes clear that their passion may have unleashed a force she never could have ever predicted….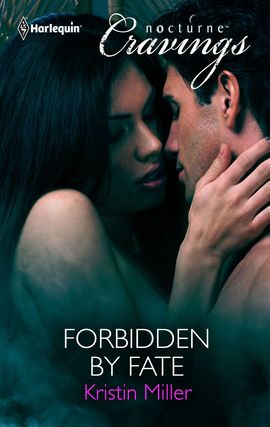 Forbidden by Fate by Kristin Miller (Harlequin Nocturne Cravings)
Dragon shifter Damon Frost has been banned from stepping foot onto Were land after sharing a night of pleasure with Sasha Moore, heir to the Were throne. Since then, he's been waiting for the opportunity to return and claim her once again–until a territory dispute finally reunites him with his werewolf princess. Damon plans to use every minute with Sasha to remind her of the passion they shared–a fire he's determined to reignite.
With their desire impossible to resist, Damon and Sasha indulge in a night of illicit ecstasy. But will it be enough to satisfy their lust? Or will their forbidden love start a war between their clans?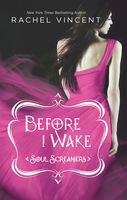 Before I Wake by Rachel Vincent (Part of the Soul Screamers series, Harlequin TEEN)
I died on a Thursday–killed by a monster intent on stealing my soul.
The good news? He didn't get it.
The bad news? Turns out not even death will get you out of high school…
Covering up her own murder was one thing, but faking life is much harder than Kaylee Cavanaugh expected. After weeks spent "recovering," she's back in school, fighting to stay visible to the human world, struggling to fit in with her friends and planning time alone with her new reaper boyfriend.
But to earn her keep in the human world, Kaylee must reclaim stolen souls, and when her first assignment brings her face-to-face with an old foe, she knows the game has changed. Her immortal status won't keep her safe. And this time Kaylee isn't just gambling with her own life….
Reissues: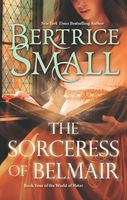 The Sorceress of Belmair by Bertrice Small (Part of the World of Hetar series, Harlequin HQN)
Magic coursing through his blood, Dillon, son of the Domina of Hetar, follows his path to the forgotten world of Belmair. Summoned to marry the king's daughter and inherit the throne, Dillon discovers Belmair is beautiful, enigmatic and seductive–as is his strong-willed new queen. What's more, Hetar's brightest star may hold the key to his people's lost heritage–and his heart.
Cinnia, sorceress of Belmair, expected to claim her rightful place as ruler, not as the wife of a stranger from a faraway land. But the enchantment that seals their marriage of power and greatness does more than soothe her wounded pride. It allows her to use her magical gifts to uncover a passion she never dared to dream of…and the darkest secret of a mystical land.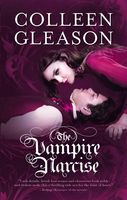 The Vampire Narcise by Colleen Gleason (A Book of the Regency Draculia, Harlequin MIRA)
Skilled in the seduction of men, both mortal and immortal, Narcise Moldavi is the greatest weapon in her twisted brother's war among the Dracule. Until she falls for Giordan Cale.
Her first searing encounter with Giordan seals their fierce connection. But Giordan's vow to help Narcise escape her brother's rule is followed by a betrayal more agonizing than sunlight.
Wounded but determined, Narcise ensnares vampire hunter Chas Woodmore in her quest for revenge and to reclaim her life. He wants her, worships her, will kill for her. And the Dracule never forget a wrong–nor do they forgive.