by Amy Wilkins, Harlequin Digital
Summer is here, but there maybe there are still a few shadows out here with vampires, immortals, fallen angels and more waiting to steal your heart. Find them in these paranormal romances hitting shelves this month from Harlequin!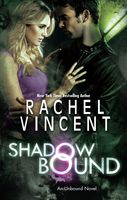 Shadow Bound by Rachel Vincent (Part of the Unbound series, Harlequin MIRA)
Kori Daniels is a shadow-walker, able to travel instantly from one shadow to another. After weeks of confinement for betraying her boss, she's ready to break free of the Tower syndicate for good. But Jake Tower has one final job for Kori, one chance to secure freedom for herself and her sister, Kenley, even if it means taking it from someone else….
The job? Recruit Ian Holt–or kill him.
Ian's ability to manipulate the dark has drawn interest from every syndicate in the world, most notably an invitation from Jake Tower. Though he has no interest in organized crime, Ian accepts the invite, because he's on a mission of his own. Ian has come to kill Tower's top Binder: Kori's little sister.
Amid the tangle of lies, an unexpected thread of truth connecting Ian and Kori comes to light. But with opposing goals, they'll have to choose between love and liberty….
Guardian of the Night by Linda Thomas-Sundstrom (Part of the Vampire Moons series, Harlequin Nocturne)
The Guardian. An immortal with incredible strength, created centuries ago to protect the purity of the vampire bloodline and fight those who would abuse its power. As one of the seven Blood Knights, Mason LanVal spent lifetimes honoring his vows without wavering. That all changed the night he found Faith.
Faith James will do anything to save her missing sister. Even if it means risking her own life. She sought Mason for help. Instead she found more questions, and the key to unlocking her own latent Lycanism. She is a woman and a trueborn Lycan, so her pull on Mason is twice damned. Yet he can't tear himself away.
With just one kiss, the blood gift Mason gives Faith sets in motion an all-consuming desire that is forbidden to indulge, but impossible to ignore….
The Enemy's Kiss by Zandria Munson (Harlequin Nocturne)
The curse he'd endured for centuries had finally been lifted. And although Nicholas Drakon no longer turned to stone at daybreak, his priority was still to protect his family. So when expert thief Daniela Ferreira stole an ancient Drakon artifact, he vowed to get back what belonged to his clan…and eliminate the threat.
Upon capturing the intoxicating cat burglar, he discovered she was desperate to save her own sister's life. The unexpected pull he felt for the lovely Daniela had Nicholas rethinking his next move. Family honor was at the core of his very being. But to turn his back on Daniela's predicament could mean losing the heart he'd just rediscovered.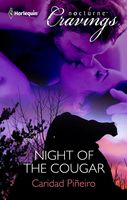 Night of the Cougar by Caridad Pineiro (Harlequin Nocturne Cravings)
Reporter Jamie Morrison got the scoop of a lifetime when she snagged a meeting with bestselling author Galen Hawke, but their rendezvous didn't end with an interview. Their immediate attraction led to a wicked night together and a plan to meet again–until an accident left Galen changed forever….
Now, one year later, Jamie is sent to interview Galen once more. When a snowstorm strands them together in his remote mountain lodge, they are both eager to explore their reawakened passion. But will Jamie stay by Galen's side when she discovers what he's become?

Seduced by the Vampire King by Laura Kaye (Harlequin Nocturne Cravings)
American exchange student Kate Bordessa has fled to Russia to escape her family's hopes that she'll become one of the Proffered, human women who feed and mate with elite vampire warriors. But when she stumbles upon a wounded vampire in the streets of Moscow, she's instinctively driven to protect him–and feels an undeniable spark of desire.
Grieving over the deaths of his brothers, Vampire Warrior King Nikolai Vasilyev has thrown himself into battling his enemies, focused only on vengeance. Until the attack that brought him to Kate. Their sexual attraction explodes into a night of uncontrolled passion–a night that marks them as mates. Is their connection strong enough to convince them to embrace a destiny neither of them was expecting?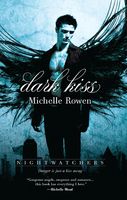 Dark Kiss by Michelle Rowen (Part of the Nightwatchers series, Harlequin TEEN)
I don't do dangerous.
Smart, über-careful, ordinary Samantha–that's me. But I just couldn't pass up a surprise kiss from my number one unattainable crush. A kiss that did something to me…something strange. Now I feel hungry all the time, but not for food. It's like part of me is missing–and I don't know if I can get it back.
Then there's Bishop. At first I thought he was just a street kid, but the secrets he's keeping are as intense as his unearthly blue eyes. If he's what I think he is, he may be the only one who can help me. But something terrifying is closing in, and the one chance Bishop and I have to stop it means losing everything I ever wanted and embracing the darkness inside me….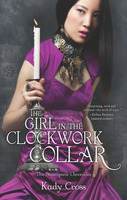 The Girl in the Clockwork Collar by Kady Cross (Part of the Steampunk Chronicles, Harlequin TEEN)
Sixteen-year-old Finley Jayne and her "straynge band of mysfits" have journeyed from London to America to rescue their friend Jasper, hauled off by bounty hunters. But Jasper is in the clutches of a devious former friend demanding a trade–the dangerous device Jasper stole from him…for the life of the girl Jasper loves.
One false move from Jasper and the strange clockwork collar around Mei's neck tightens. And tightens.
From the rough streets of lower Manhattan to elegant Fifth Avenue, the motley crew of teens with supernatural abilities is on Jasper's elusive trail. And they're about to discover how far they'll go for friendship.
More than ever, Finley Jayne will rely on powerful English duke Griffin King to balance her dark magic with her good side. Yet Griffin is at war with himself over his secret attraction to Finley…and will risk his life and reputation to save her. Sam, more machine than man, finds his moody heart tested by Irish lass Emily–whose own special abilities are no match for the darkness she discovers on the streets.
Now, to help those she's come to care for so deeply, Finley Jayne must infiltrate a criminal gang. Only problem is, she might like the dark side a little too much….
Reissues: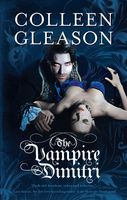 The Vampire Dimitri by Colleen Gleason (A Book of the Regency Draculia, Harlequin MIRA)
Dimitri, also known as the Earl of Corvindale, should be delighted that the headstrong Maia Woodmore is getting married. His mortal ward and houseguest has annoyed–and bewitched–the Dracule nobleman too long, and denying his animal cravings grows more excruciating by the day.
Miss Woodmore's family has a rather…complicated history with the immortals. Marriage will give her safety, respectability and everything else a proper young lady could wish for. Everything, that is, except passion.
In the looming battle between Dracule factions, all pretenses will shatter as Maia and Dimitri come together in an unholy union of danger, desperation and fiercest desire.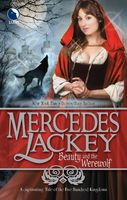 Beauty and the Werewolf by Mercedes Lackey (A Tale of the Five Hundred Kingdoms, Harlequin MIRA)
The eldest daughter is often doomed in fairy tales. But Bella–Isabella Beauchamps, daughter of a wealthy merchant–vows to escape the usual pitfalls.
Anxious to avoid the traditional path, Bella dons a red cloak and ventures into the forbidden forest to consult with "Granny," the local wisewoman. But on the way home she's attacked by a wolf–who turns out to be a cursed nobleman. Secluded in his castle, Bella is torn between her family and this strange man who creates marvelous inventions and makes her laugh–when he isn't howling at the moon.
Bella knows all too well that breaking spells is never easy. But a determined beauty, a wizard (after all, he's only an occasional werewolf) and a little Godmotherly interference might just be able to bring about a happy ending….