by Elle James, author of Hot Demon Nights (Harlequin Nocturne Cravings, May 2012)
I couldn't think of a better place for people of all shapes, sizes, ethnicities and…species to blend into crowds than in New York City. The city teems with who knows what beneath the glitz, glamour and neon lights. It's a great place for shapeshifters, vampires and demons to live undetected by humans. That's why I chose NYC for my first Nocturne Cravings story, Hot Demon Nights.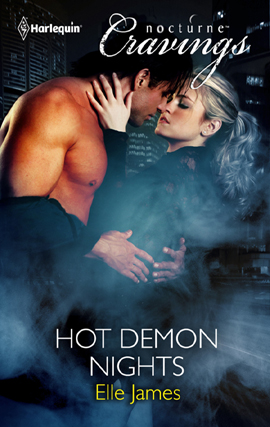 Since I wanted my heroine to be a cop, she had to be a tough, kick-ass-take-no-prisoners kind of gal. And she's beautiful…which she hates that fact and it gives her all the attitude she needs to scare the other cops at the 5th Precinct into leaving her the hell alone. Since she's such a strong character I decided to write this story all in her point of view. Here's a taste of what you're in store for:
HOT DEMON NIGHTS
She didn't ask for the job, it landed in her lap, literally. Rookie cop and budding paranorm butt-kicker, Katya Danse, becomes a member of the Lower Manhattan order of the Paranormal Investigation Team (PIT). This elite group of multi-skilled law enforcers is tasked with keeping peace between the human and otherkin inhabitants of Manhattan. Katya never knew she had special skills until a zombie fell in her lap from the fourth story of her apartment building, and she lopped its head off. From rookie cop to PIT crew, she's sniffing out zombies and tracking down rogue demons, vampires and werecreatures for a living. Nicked-named Iceman for her ability to cut a man's ego down in a single word, Katya has never met a man she can trust, much less a demon. The last thing she needs is a smart-ass demon dogging her every step, especially one with mind-melding gazes and sex-appeal that could corrupt even the most heart-hardened cop.
Blaise Michaels, one of the few paranorms recruited as part of the select PIT crew, teams with Katya to discover the source of a fresh outbreak of zombification and nip it in the bud. Not only is he interested in the challenge of awakening Katya's inner demon, he knows their adversary is dangerous, beyond even their initial indications. Forced into close proximity, Katya's and Blaise's investigation takes them into the darkest, dirtiest shadows of the Manhattan underworld, pitting superhuman skills against a barrage of creatures fighting for survival and domination in a world most humans will never know exists. As their investigation intensifies, so too does the heat between them, fire melting ice, a combustible outcome sure to ensue.
Don't you think big cities are great places to hide in plain sight? What other cities would work as well as NYC? Leave a comment and let me know.