by Amy Wilkins, Harlequin Digital
Check out these paranormal romance and fantasy novels hitting the shelves this month from Harlequin!
A Wolf's Heart by Vivi Anna (Harlequin Nocturne)
Desire can be deadly.
Gabriel Bellmonte knows that better than anyone. He let his first love slip away, while loyalty to his kind kept him in Nouveau Monde fighting crime. But now the seasoned Lycan investigator has been handed his toughest assignment yet.
"Shadow Elise Leroy's every move" is his order from above—something Gabriel will do with pleasure. Except his lingering attraction for Elise could be his downfall. She has returned a glamorous, successful woman, who now finds herself the target of a twisted stalker…and in need of 24-hour protection.
Gabriel is skilled at what he does, but he'll need to sharpen his fangs against a formidable foe. Because he can't risk the consequences to his reputation…or to the enticing little diva who has dramatically reclaimed his heart.
The Witch Thief by Lori Devoti (Harlequin Nocturne)
Joarr Enge never believed in the powers of the chalice he was tasked to guard—but he sure as hell wasn't going to let the captivating witch who'd robbed him escape. Now, a century after her betrayal, Joarr commandeered Amma's body and blocked her magic. She would spend every moment by his side until the chalice could be found.
Amma had risked everything to uncover the secrets in her past—even the rage of her powerful and mysterious dragon lover. But as Joarr's passionate fire tempted her to dream of a future with him, could their magic unite two separate worlds for the most precious thing of all…their son?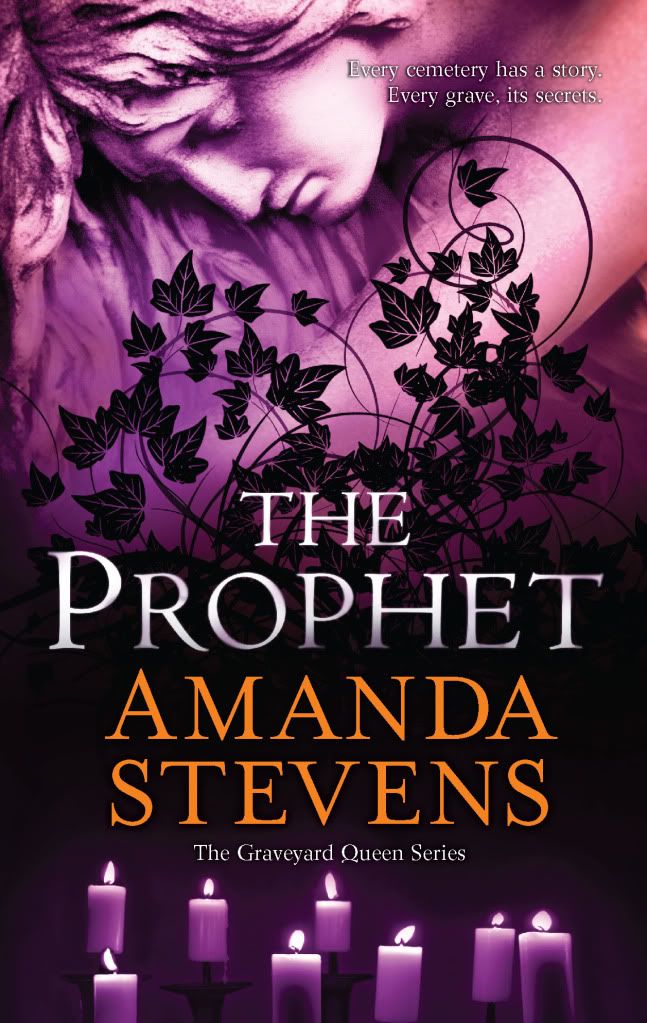 The Prophet by Amanda Stevens (book 3 of The Graveyard Queen series, MIRA Books)
My name is Amelia Gray.
I am the Graveyard Queen, a cemetery restorer who sees ghosts. My father passed down four rules to keep me safe and I've broken every last one. A door has opened and evil wants me back.
In order to protect myself, I've vowed to return to those rules. But the ghost of a murdered cop needs my help to find his killer. The clues lead me to the dark side of Charleston–where witchcraft, root doctors and black magic still flourish–and back to John Devlin, a haunted police detective I should only love from afar.
Now I'm faced with a terrible choice: follow the rules or follow my heart.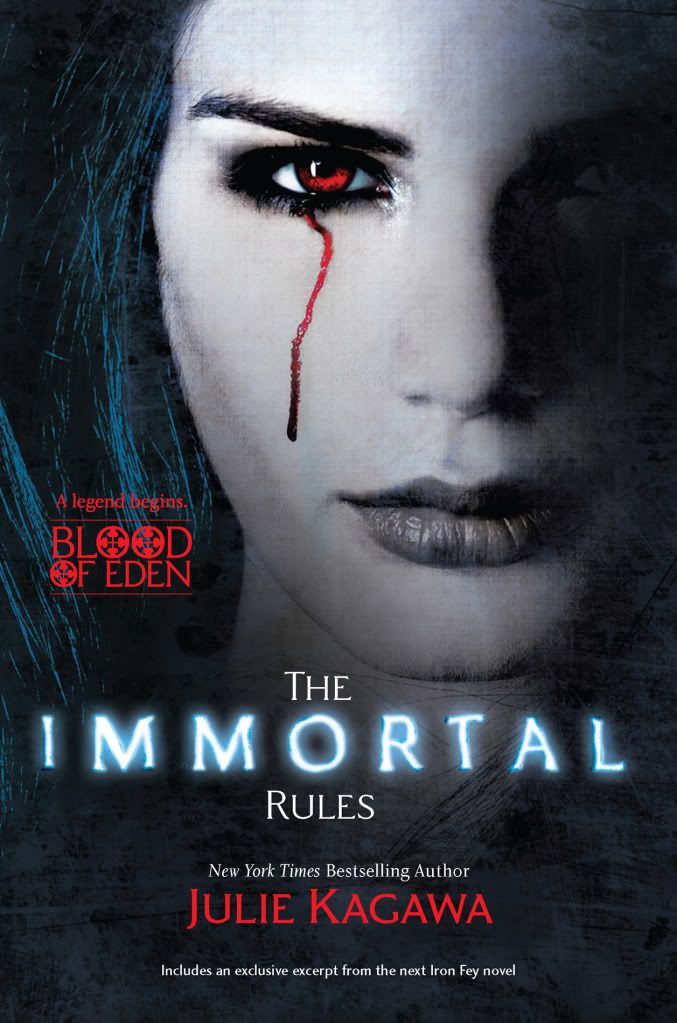 The Immortal Rules by Julie Kagawa (book 1 of The Blood of Eden series, Harlequin Teen)
In a future world, vampires reign. Humans are blood cattle. And one girl will search for the key to save humanity.
Allison Sekemoto survives in the Fringe, the outermost circle of a vampire city. By day, she and her crew scavenge for food. By night, any one of them could be eaten.
Some days, all that drives Allie is her hatred of them. The vampires who keep humans as blood cattle. Until the night Allie herself is attacked–and given the ultimate choice. Die…or become one of the monsters.
Faced with her own mortality, Allie becomes what she despises most. To survive, she must learn the rules of being immortal, including the most important: go long enough without human blood, and you will go mad.
Then Allie is forced to flee into the unknown, outside her city walls. There she joins a ragged band of humans who are seeking a legend–a possible cure to the disease that killed off most of humankind and created the rabids, the mindless creatures who threaten humans and vampires alike.
But it isn't easy to pass for human. Especially not around Zeke, who might see past the monster inside her. And Allie soon must decide what–and who–is worth dying for.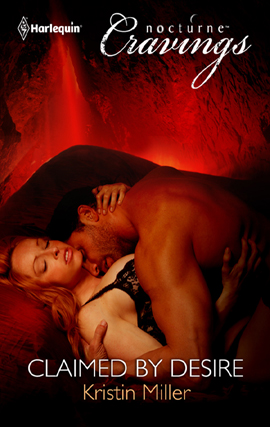 Claimed by Desire by Kristin Miller (Harlequin Nocturne Cravings)
Empath Misty Burke only ever wanted one man: dragon shifter Rafe Landon. Their attraction was irresistible, but he was forbidden to love a member of another race and banished her from their island, breaking Misty's heart.
Misty believes she's gotten over him since that day—until she's called home for a mission to help Rafe's clan. The primal draw between them is as strong as ever, but despite their searing passion, Rafe still refuses to put Misty at risk by claiming her as his rider and mate. Even if it costs him his life….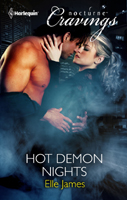 Hot Demon Nights by Elle James (Harlequin Nocturne Cravings)
Rookie cop Katya Danske didn't ask to become a member of Manhattan's Paranormal Investigation Team—or to be partnered with a sexy-as-hell demon. Then a zombie literally drops into her lap and she's recruited to help Blaise Michaels battle an impending zombie outbreak.
Blaise is as exasperating as he is arousing, but while Katya's head tells her she should keep her distance, her body wants something else entirely. Forced to work closely together, their investigation takes them into the darkest shadows of the Manhattan underworld—and makes their attraction impossible to deny. But with the zombie threat rising, their hot nights together may be their last….
Reissues – These are titles that were previously on sale, but are now available in a new format or edition.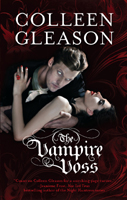 The Vampire Voss by Colleen Gleason (A Book of the Regency Draculia series, MIRA Books)
Voss, also known as Viscount Dewhurst, relishes the sensual pleasures immortality affords. A member of the Dracule–a cabal of powerful, secretive noblemen marked with a talisman that reveals their bartered souls–the mercenary Voss has remained carefully neutral…until Angelica.
Angelica Woodmore possesses the Sight, an ability invaluable to both sides of a looming war among the Dracule. Her very scent envelops Voss in a scarlet fog of hunger–for her body and her blood. But he is utterly unprepared for the new desire that overcomes him–to protect her.
Now Voss must battle his very nature to be with Angelica…but this vampire never backs down from a fight.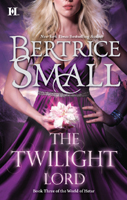 The Twilight Lord by Bertrice Small (The World of Hetar series, MIRA Books)
Lara, Domina of Terah, has mysteriously disappeared while visiting the New Outlands. The Dominus is frantic to find his beloved wife, but when no trace of her can be discovered, Magnus Hauk turns to two strong allies-Prince Kaliq of the Shadows and his mother-in-law, Ilona, the most powerful of the faerie queens. Who has stolen Lara? And why?
In the Dark Lands. Kol, the Twilight Lord, revels in his victory. The faerie woman Lara is now his possession, and her powers will soon help him to conquer first Hetar and then Terah. But the Emperor of Hetar is hatching schemes of his own-having learned of Lara's disappearance he believes Terah is now vulnerable, and plans to go to war against Magnus Hauk.
The reigning queen of historical romance is delighting readers in a brand-new genre as she brings her trademark passion and sensuality to a land of magic and mystery. See why fans are clamoring for more of Lara and the world of Hetar!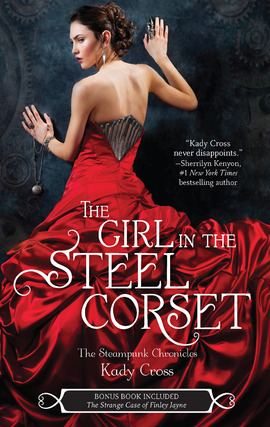 The Girl in the Steel Corset by Kady Cross (The Steampunk Chronicles series, Harlequin Teen)
In 1897 England, sixteen-year-old Finley Jayne has no one…except the "thing" inside her.
When a young lord tries to take advantage of Finley, she fights back. And wins. But no normal Victorian girl has a darker side that makes her capable of knocking out a full-grown man with one punch….
Only Griffin King sees the magical darkness inside her that says she's special, says she's one of them. The orphaned duke takes her in from the gaslit streets against the wishes of his band of misfits: Emily, who has her own special abilities and an unrequited love for Sam, who is part robot; and Jasper, an American cowboy with a shadowy secret.
Griffin's investigating a criminal called The Machinist, the mastermind behind several recent crimes by automatons. Finley thinks she can help–and finally be a part of something, finally fit in.
But The Machinist wants to tear Griff's little company of strays apart, and it isn't long before trust is tested on all sides. At least Finley knows whose side she's on–even if it seems no one believes her.