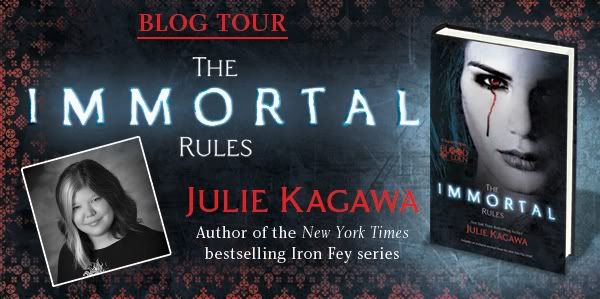 We've got a TON of news today about New York Times bestselling author Julie Kagawa's new series, Blood of Eden! It's the official launch of BloodofEden.com and book trailer for the first novel, The Immortal Rules. Be sure to pay close attention to the book trailer, too, to unlock hidden content on the site….
Today also starts a blog tour with author Julie Kagawa to celebrate the upcoming release of The Immortal Rules! Harlequin's Paranormal Romance blog is thrilled to be the first stop on the tour AND the place where you can enter to win the tour's grand prize of a Kindle Touch with with a special Immortal Rules cover.
Keep reading for a message from Julie herself to kick things off, information about the blog tour schedule (which will have book giveaways at each stop), and the contest entry form. Good luck! ~Amy
* * *
Hello, readers!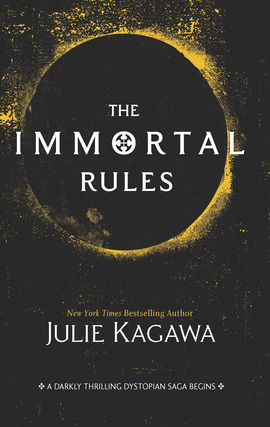 So, today is the start of a brand new blog tour for The Immortal Rules, and I couldn't be more excited for it.  On the tour stops, we will follow protagonist Allison Sekemoto as she transforms from human to vampire and asks herself, what does it mean to be immortal, to be separate from the rules of the living?  We will also discover her world–New Covington, the Fringe, the wilderness beyond, and all the dangers that lurk therein.  We will glimpse the most terrifying aspect of this new reality–the rabids–and hope that we escape with our lives.  And we will meet some of the other characters of The Immortal Rules–Kanin, Zeke, Jebbadiah, Sarren–and see just how they fit into Allison's life.
Someone once asked me if it was very different switching from writing about faeries to writing vampires, and I have to say yes, it most certainly was.  The Immortal Rules proved to be an even darker tale than Meghan's story in The Iron King.  Allie's world is filled with monsters, and each day is a fight for survival, but her greatest enemy isn't the rabids or the vampires or even the humans who despise vampires and want her dead.  Her greatest enemy is herself.  Especially as she tries to cling to her humanity, to fight the Hunger within, to not become a monster.  This is her story.  I hope you will join us for the ride!
* * *
Thanks for blogging us with today, Julie!
So where else will The Immortals Rules blog tour go next? Here's the schedule below — and remember, each stop will have a unique look at a different aspect of the Blood of Eden series AND a giveaway!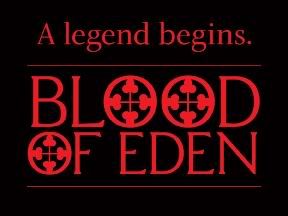 Now for OUR giveaway! Use the Rafflecopter widget below to enter to win a Kindle Touch with an Immortal Rules cover. You can also get additional entries by doing the following:
Details: Open to residents of the US and Canada (excluding Quebec) only. Must be 13 years of age or older. Contest closes at 11:59 PM (EST) on May 2, 2012. Please read full contest rules here.