by Amy Wilkins, Harlequin Digital
From werewolves to witches, goddesses to ghosts, see what paranormal romances Harlequin has on offer this month!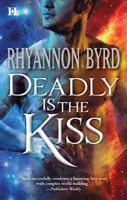 Deadly Is the Kiss by Rhyannon Byrd (HQN Books)
Tasked with protecting humanity from harm, the last thing Ashe Granger was searching for on his mission was his destined mate. Then, a mysterious dark-eyed beauty reluctantly offered him shelter. A spark of danger–and a soul-deep recognition–ignited a burning, carnal need….
Since her family's exile, Juliana Sabin had borne full responsibility for their safety. So when evil struck, she had no choice but to ally herself with the sexy guardian vampire. Now, months later, Ashe is back and tempting Juliana to reveal her darkest secrets…and desires. For the killer stalking the shadows isn't acting alone–and he won't rest until his deadly cravings are fulfilled.
The Werewolf's Wife by Michele Hauf (Harlequin Nocturne)
The legacy he must obey…
The child she must save…
The man who threatens to fulfill her every fantasy…
and break her heart.
Alpha wolf Ridge Addison left his wife in Las Vegas, vowing to put their one reckless night of passion behind him and return to his clan. Thirteen years later he needs a divorce so he can become pack leader. Yet he's never forgotten the sensuous witch whose life he saved…or the knee-buckling kisses he still craves.
After they parted, Abigail tried banishing Ridge from her memory. Now her heart belongs only to her son. But when the boy is kidnapped, she knows she alone can't save him. Though Abigail's body still aches for Ridge, she's willing to give him his freedom in exchange for his help. But who will shield her heart from the only man she's ever let claim her, body and soul?
Warrior Rising by Pamela Palmer (part of The Esri series, Harlequin Nocturne)
Single dad Harrison Rand craved vengeance only for the harm the evil Esri race had inflicted on his young daughter. But now that he found himself the sole guardian of the Esrian princess Ilaria, exacting his revenge wasn't the simple task he'd thought it would be.
Because Ilaria—despite her cold beauty and royal entitlement—was like no Esri he'd encountered before. With a simple act of kindness, the princess made him question everything he thought he knew about her race. And to save his own from total annihilation, he needed her compassion and her power to seal the gates between their worlds forever. To save his soul, he found himself needing only her love.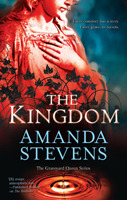 The Kingdom by Amanda Stevens (book 2 of The Graveyard Queen series, MIRA Books)
Deep in the shadowy foothills of the Blue Ridge Mountains lies a dying town…
My name is Amelia Gray. They call me The Graveyard Queen. I've been commissioned to restore an old cemetery in Asher Falls, South Carolina, but I'm coming to think I have another purpose here.
Why is there a cemetery at the bottom of Bell Lake? Why am I drawn time and again to a hidden grave I've discovered in the woods? Something is eating away at the soul of this town–this withering kingdom–and it will only be restored if I can uncover the truth.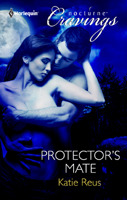 Protector's Mate by Katie Reus (Harlequin Nocturne Cravings)
After two years in a war zone, werewolf Felicia Serna has finally returned to find another pack has taken over her territory…and the new second-in-command is the very man who haunts her fantasies.
Alaric has wanted Felicia from the moment he laid eyes on her, and now he's ready to claim her. When a threatening shifter begins stalking them, he's determined to protect her…even if it means putting his seduction on hold. But even in the heat of danger, their red-hot passion cannot be denied.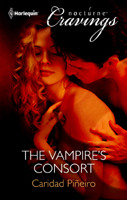 The Vampire's Consort by Caridad Pineiro (Harlequin Nocturne Cravings)
Vampire Adrian offered Eliza a choice: die of a fatal illness, or become his consort and attend to his every need. Eliza chose life, but she did not expect to fall in love–and lust–with him….
Nothing compares to the erotic excitement of watching Adrian pleasure one of his many willing companions, but she's tired of waiting for Adrian to see her as more than his consort. She thinks she's ready to move on with her human lover, John–until Adrian surprises all three of them with a sensual encounter that changes everything….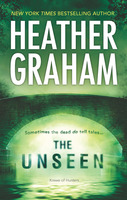 The Unseen by Heather Graham (MIRA Books)
1800s. San Antonio, Texas: In room 207 at the Longhorn Saloon, in the long shadow of the Alamo itself, a woman renowned for her beauty was brutally murdered. Her killer was never found.
One year ago: In that same historic room, another woman vanished without a trace. Her blood was everywhere…but her body was never recovered.
Now: In the last month, San Antonio has become a dumping ground for battered bodies.
All young women, many of them long missing, almost all forgotten. Until now.
Texas Ranger Logan Raintree cannot sit by and let his city's most vulnerable citizens be slain. So when he is approached to lead a brand-new group of elite paranormal investigators working the case, he has no choice but to accept the challenge. And with it, his powerful ability to commune with the dead.
Among Logan's new team is Kelsey O'Brien, a U.S. marshal known for her razor-sharp intuition and a toughness that belies her delicate exterior. Kelsey has been waiting all her life to work with someone who can understand her ability to "see" the past unfolding in the present. Now she has her chance.
Together, Kelsey and Logan follow their instincts to the Alamo and to the newly reopened Longhorn, which once tempted heroes with drink, cards and women. If the spirits of those long-dead Texans are really appearing to the victims before their deaths, only Kelsey and Logan have the skills to find out why.
And if something more earthly is menacing the city's oldest, darkest corners, only they can stop it–before more innocent women join the company of San Antonio's restless ghosts….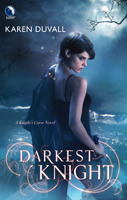 Darkest Night by Karen Duvall (Luna Books)
"Betray your sisters or your lover. You choose."
After the warrior she loves saved her from a murderous gargoyle, Chalice watched helplessly as Aydin turned into a gargoyle himself. Now, free from the curse that enslaved her, Chalice pledges to join her sister knights in The Order of the Hatchet–and do whatever it takes to regain Aydin's humanity…and his love. What she encounters within their hallowed sanctuary is pure intrigue.
Someone–or something–is murdering her sisters in their sleep, provoking fear and suspicion among the order. Meanwhile, Aydin, unable to stay away, starts haunting Chalice's dreams, urging her onward. Ultimately, Chalice will be faced with an agonizing choice–one that will tear away at her newfound identity and force her to choose between duty and desire….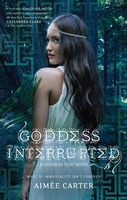 Goddess Interrupted by Aimee Carter (book 2 of The Goddess Test series, HarlequinTEEN)
Kate Winters has won immortality. But if she wants a life with Henry in the Underworld, she'll have to fight for it.
Becoming immortal wasn't supposed to be the easy part. Though Kate is about to be crowned Queen of the Underworld, she's as isolated as ever. And despite her growing love for Henry, ruler of the Underworld, he's becoming ever more distant and secretive. Then, in the midst of Kate's coronation, Henry is abducted by the only being powerful enough to kill him: the King of the Titans.
As the other gods prepare for a war that could end them all, it is up to Kate to save Henry from the depths of Tartarus. But in order to navigate the endless caverns of the Underworld, Kate must enlist the help of the one person who is the greatest threat to her future.
Henry's first wife, Persephone.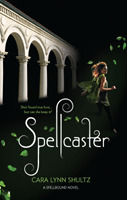 Spellcaster by Cara Lynn Shultz (book 2 of The Spellbound series, HarlequinTEEN)
After breaking a centuries-old romantic curse, Emma Connor is (almost) glad to get back to normal problems. Although…it's not easy dealing with the jealous cliques and gossip that rule her exclusive Upper East Side prep, even for a seventeen-year-old newbie witch. Having the most-wanted boy in school as her eternal soul mate sure helps ease the pain–especially since wealthy, rocker-hot Brendan Salinger is very good at staying irresistibly close….
But something dark and hungry is using Emma's and Brendan's deepest fears to reveal damaging secrets and destroy their trust in each other. And Emma's crash course in überspells may not be enough to keep them safe…or to stop an inhuman force bent on making their unsuspected power its own.