by Mara Purnhagen, author of Raising the Dead and One Hundred Candles (Harlequin TEEN)

My friend Nicole hosted the greatest slumber parties. Her house featured a finished basement and her parents didn't mind if a gaggle of 15-year-old girls made too much noise well into the morning. She also possessed an expertise of all the best games to play in the dark, the kind that required quiet concentration and a desire to witness something weird.
We would wait until the clock chimed twelve to begin the first game, which was usually "Light as a Feather, Stiff as a Board," in which we would raise a girl from the floor using only the tips of our fingers. Then we would take turns going into the windowless bathroom, where we would turn off the lights and stare into the mirror reciting "Bloody Mary" thirteen times. And we always ended the evening crowded around an Ouija board, which we were sure had contacted the confused spirit of a gorgeous teenage guy.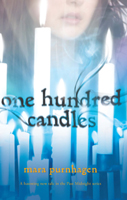 These slumber parties were thrilling to me. We were taking risks! We were experimenting with unseen forces! There was endless supply of cheese puffs! But really, the best part about the parties was knowing that we were surrounded by friends and perfectly safe. If Bloody Mary decided to appear in the mirror, all we had to do was scream and run upstairs. I thought about those parties when I wrote One Hundred Candles, the second novel in the Past Midnight series. Because what if you participated in a late night game that wasn't so safe? That maybe unleashed something that should be permanently contained?
"One Hundred Candles" is a real (although obscure) game. It requires a group of people to sit in a circle and reveal their personal ghost stories. After each story, a candle is lit. When all one hundred stories have been told and all one hundred candles are glowing, one hundred spirits will join the group. That's when the game really begins. Participants claim that weird things begin to happen, from doors opening to clocks chiming. It will continue (supposedly) until the circle is broken.
Although this wasn't a game I ever played at one of my slumber parties, I thought it was a great concept for a book. Charlotte Silver, the main character in the Past Midnight series, is drawn into the game at a New Year's Eve party. The results are not what she expects.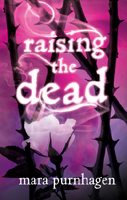 Maybe we all want to witness something strange and mysterious, something beyond our realm of understanding. Maybe that's why late night games played in the dark appeal to us. And maybe we don't really expect anything to happen. But if something does happen? Well, that's a whole other story.
During the month of February, Harlequin TEEN is offering Raising the Dead, a novella in the Past Midnight series, for free. You can download it to your computer, Kindle or Nook here.
This book takes place shortly after the events in Past Midnight. A severe storm hits Charlotte's town, causing flooding that unearths old coffins—and a strange mystery.