by Emma Cunningham, Harlequin Digital
Halloween is coming! Halloween is coming! Is anyone else excited for Halloween?
I know I am. I may not put as much effort into my costume as I did ten (or fifteen) years ago, but I do still enjoy celebrating Halloween. For me, the best way to enjoy the Halloween season is to curl up with a paranormal book. I know, I could read ghost stories, but I have to admit that I'm a bit of a chicken, so I turn to less-scary paranormal fiction to get in the Halloween spirit.
This year, I started out by reading Past Midnight, Mara Purnhagen's YA novel about Charlotte Silver, the daughter of a reality TV ghost-hunting couple. Charlotte's work behind the scenes on her parents' show has attracted the attention of some ghosts—but instead of having fun with it, she's now on the run them while trying to make it through high school alive.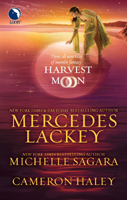 You know what else I love? Anthologies. I've been a huge fan of Michelle Sagara and Mercedes Lackey for years (yes, predating my employment at Harlequin), but hadn't had a chance to check out new author Cameron Haley yet. Picking up Harvest Moon gave me a chance to enjoy new works by authors I loved (I was especially excited to learn how Kaylin Neya came to be a member of the Hawks in Cast in Midnight by Michelle Sagara) and introduced me to a new one I hadn't read yet. I loved Cameron Haley so much that I ran back out to grab a copy of Mob Rules, and I know you're going to love it too.
Are you a blogger? I'd love to send you advanced eARCs! E-mail at emma [underscore] cunningham [at] harlequin [dot] ca and I'll send you information on my favorite paranormal books this season (If you were involved in Big Summer Reads, you can skip this step—I still have your contact information). You can request as many of them as you'd like for review!
Update: please send Emma a link to your review blog when contacting her as well. Thanks!