by Anna Leonard, author of Firebreak (Harlequin Nocturne Bites, July 2010)
Writers doubt themselves.  Especially if something seems 'too easy.'  Firebreak was one of those stories that sweeps in and almost writes itself – from idea to completion it took five days, which is unusual for me. I like to think about my stories, visit with the characters, get a sense of them.  Not here; like the demon-fire my characters face, it swept in and set me to running.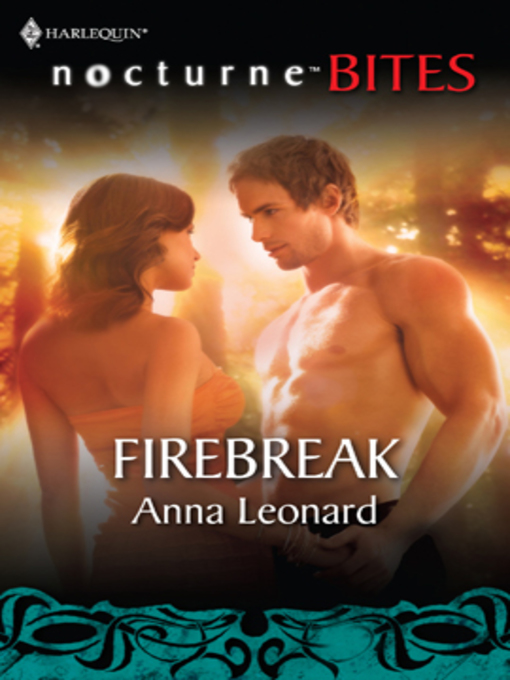 The image came to me first: a wall of fire, crackling and sharp, with a pair of eyes looking out from within.  Dark eyes, not cruel but curious, intent.  The eyes of a lover.  A man, caught somewhere between ecstasy and despair, fear and exaltation.
All right, I thought.  I can work with this.  Fire fascinates.  It enthralls.  It purifies, and it destroys.  We refer to the heat of passion, the spark of interest… How could I NOT write a paranormal romance about fire?  And how could my hero not be a firefighter one of those individuals who runs into danger, rather than away? Hot, indeed.
But what about my heroine?  Who could match a fire demon? More, who could learn from one, and teach him something in return?  I needed someone strong, yes, and of substance, otherwise he would burn through her.  But she also needed to be cool, thoughtful, to counter his heat.  And she needed, most of all, to trust.  Because when you strike the flame, you have to believe that it will do what you set it to, and not turn on you.  Fear, in a fire, will get you killed.
And so, of course, in the beginning they had to be neither of those things.  That is the heart of the story, the thing that drives them both.  Neither of my characters was looking for love, or completion, or any satisfaction.  They were trying to survive, thrust into situations that had no good answer, no easy solutions.  And that?  That was why the story fascinated me, why the image, of the man made of flames, the woman trapped within, drove me to pour the words onto the page as though only my writing it could actually save them.  Danger on all sides, great risk even if they survive, and a healthy splash of physical heat: set a match to the kindling and step back.
Five days from first thought to final draft, leaving me shaking and sweating, and worried.   I'd written it so quickly, let it flow out of me…was that okay?  Had I missed something, forgotten something? [yeah, I worry.  I sometimes even obsess]
And then, walking to meet friends for drinks, my editor e-mailed me the cover.  And it was lovely, perfect in fact, and I relaxed a little.  Just a little, mind you.  And, while looking at the image on my phone, I arrived at my destination. I pushed open the door and walked into a bar on the Upper West Side of Manhattan…and walked into a crowd of firefighters who happened to be drinking there.
Seriously.  Hand to the heavens, true story.  I have witnesses.  An entire bar filled with NYC firefighters.
How could I doubt the story, after that?  Could you?