Meagan Hatfield makes her debut this month with a sexy tale of vampires and dragons — Shadow of the Vampire! Meagan joins us today to blog about Shadow of the Vampire (and don't forget the prequel novella, Dragon Warrior, from Nocturne Bites!)–and give away a copy to a lucky commenter!
by Meagan Hatfield, author of Shadow of the Vampire (HQN Books) and Dragon Warrior (Harlequin Nocturne Bites)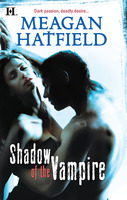 There is nothing quite like getting your carefully ordered world flipped on its axis by someone you're supposed to not only hate, but maim, torture and kill.  Well, actually, I have no idea how that feels.  But Alexia, the heroine of SHADOW OF THE VAMPIRE knows exactly what I'm talking about (don't you, Alex *grin*)
You see, Alexia is a vampire.
Not just any vampire.
But the Queen's daughter and next in line for the throne.  Her ascension is mere days away.  However, she's not sure she'll make it that long.  The vampire horde she is supposed to wield power over is crumbling around her.  She does not trust her mother's lover, the powerful ancient who commands their armies. He is slowly but surely undermining her authority over their soldiers, while tightening his yoke of control over her ailing mother.  And ever since he tortured and murdered the dragon king and queen, the centuries-long war between their mortal enemies has reached its pinnacle.
Alexia's only hope of becoming a successful ruler lies in a crystal foretold to grant its bearer the power to rule all or destroy one. Her only problem is the son of the slain dragon rulers and new king of their kind, Declan, has the crystal.  And nothing, not being captured and held in the horde's dungeon or even the lashing bite of her single tail whip is making him talk.
What is a girl to do?
Anything necessary to retrieve the precious stone, and destroy the man, who in days would become number one on her list of enemies.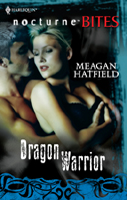 Alexia knows this.  And yet, she cannot help but be drawn into the dragon lord's fire. The only men she's ever seen are her vampire brethren…gaunt, pale, with black eyes and even darker souls.  While this dragon lord is big, thick, gorgeous and strong.  His golden body covered with hard, ridged muscles.  Everything about him screams loyal, noble, honorable protector.  Even though none of those traits are directed at her, she can still see them, feel them.  His strength and resolve while being tortured and beaten, commands both her attention and respect on a level she cannot deny or ignore. She finds herself understanding and empathizing with the newly crowned leader, doing anything he can to fight for his people.
When their roles are suddenly reversed, she held captive beneath his big, heavy body, Alexia knows she should be fighting him.  Doing anything she can to get free and kill him for even touching her.  Yet, she can't seem to find the will to move…can't stop her traitorous body from reacting to his smoldering touch, her lips from melting beneath the heated passion of his kiss…
Although Alexia get's all angsty and conflicted over her warring duty and emotions, I don't blame her one bit for being swept up in the dragon's intoxicating undertow.  And I'm guessing once you meet Declan Black, king of the dragons, you'll agree. 🙂
Want a chance to read more about Declan and Alexia in SHADOW OF THE VAMPIRE?  Leave a comment below and you'll be entered to win a signed copy!