Zandria Munson took on a challenge when she picked a different sort of supernatural being to become a sexy, irresistible hero in her Nocturne Bite story Prisoner of Temptation. Wondering what kind of hero we're talking about? You'll have to read her blog post to find out!
by Zandria Munson, author of Prisoner of Temptation (Harlequin Nocturne Bites, June 2010)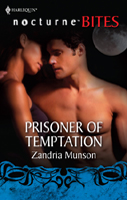 When I made the decision to venture into the realm of paranormal romance I paused to take a look at what was already out on the market. Now while I enjoy vampires and werewolves just as much as the next person, I needed to do something different. I've never been much of a follower and so I started considering the variety of entities that comprise the paranormal.
After a few days of brainstorming I stumbled upon an idea that has appealed to me for years – gargoyles. They are usually seen as dark and grotesque little beasties perched at the top of churches, in graveyards and on historic buildings. These creatures are fabled to be men cursed for their transgressions in life with only one recourse to redeem themselves – to guard others and ward off evil. The thing that intrigues me most about these creatures is the concept of turning to stone during the day and becoming gargoyles at night.
Instantly, I knew I wanted to write about them. But one question remained: how was I ever going take these little creatures and make them into something that would inspire a quickened pulse? They needed to meet the qualifications of "sexy". And so, I pulled out my creative cauldron and tossed in three cups of tall and handsome, a teaspoon of dangerous, a pinch of primordial desire and a dash of irresistible. And thus, the gargoyle clans were born!
There is simply nothing sexier than an alpha male who, with all his strength requires a woman's interference to vanquish the demons that plague him. And to complete this scenario I knew I needed an equally strong woman who of course has her own insecurities.
This is another aspect of paranormal romance that has lured me. Gone are the days when women in novels are required to be soft and meek and totally reliant upon the alpha male. The modern woman is bold and smart and self sufficient. I chose to have my heroine of Prisoner of Temptation as a witch because I've enjoyed the Wicca culture and I needed her to be a force to be reckoned with.
So, in conclusion, My inspiration for my story was my desire to do something different and to retain the dark intrigue of the paranormal world. What intrigues you?