by Amy Wilkins, Harlequin Digital
Today is the launch of Carina Press, Harlequin's new ebook-only imprint! The Harlequin Digital team (including me 🙂 ), executive editor Angela James, and Carina authors have been working hard to for months acquiring books, editing, setting marketing plans, and so much more to get Carina off the ground–and now we're ready for people to read them!
Carina Press will publish ebooks from a variety of genres (including paranormal, fantasy and sci-fi–with or without romantic elements!) each Monday in DRM-free format. The launch month has 37 books in its first month—approximately 10 books a week—and range in price from $2.99 to $6.99 depending on the length of the story (from 20,000 to over  100,000 words).You can purchase Carina Press titles at the website, www.carinapress.com, as well as other ebook stores like Amazon, Barnes and Noble, Books on Board, etc.
For you paranormal romance, sci-fi and fantasy fans, here's a highlight of the supernatural titles you can buy RIGHT NOW!
Motor City Fae by Cindy Spencer Pape
Detroit artist Meagan Kelly has had a strong sixth sense all her life, but that doesn't mean the gorgeous stranger's crazy story—that she's a half-elf, half human heiress—is true. But Meagan can't deny the evidence of her own eyes—he's Fae. A tall, blond, handsome, pointy-eared elf—and a man she just can't get enough of.

Ric Thornhill's assignment just got a lot more complicated. The more time he spends with Meagan, the harder it is to see her as a political tool to prevent an all-out war between humans and Fae.

Now Meagan's in a race to master her newly released powers in time to prevent the conflict, convince a jealous Queen not to strip Ric of his powers, and find out if she can build a life that straddles two worlds.

Book I of Urban Arcana
Toni Giovanni is a thief…although she prefers to call it the high-risk recovery business. Her current job feels suspiciously easy—until a mysterious artifact draws her into an ancient prophecy and binds her soul to a spirited dragon named Amethyst.

But Toni isn't quite ready to be taken over by a dragon, even if Amethyst's appetite for sexy archaeologist Dr. Ben Davis mirrors Toni's own. And she's got a big problem on her hands: turns out the prophecy predicts that dragons will end the world…and there are many more dragons out there.

Toni's going to need all the help she can get.
The Republic had taken everything from Moon—her research partner, her privacy, her illusions. They thought they had her under control. They were wrong.

Sirin, Moon's new research partner, is a chemically enhanced math genius whose memory is erased every two days. He's also a charming, fascinating man who is attracted to her anew after each memory loss cycle.

Escape from the regime that treats them like tools is impossible. There are too many walls around them, too many eyes watching. But when you've got nothing left to lose, running becomes the only option.
Plus, you can pre-order these other June paranormal titles:
Allegra Fairweather: Paranormal Investigator by Janni Nell
Tempting the Enemy by Dee Tenorio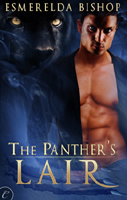 The Bloodgate Guardian by Joely Sue Burkhart
The Prince of Freedom by Jenny Schwartz
Savage Sanctuary by Jacqueline Barbary
Hunters by Lindsey Bayer and Michelle Marquis
Salome at Sunrise by Inez Kelley
The Panther's Lair by Esmerelda Bishop
Dark and Disorderly by Bernita Harris
You can also download excerpts of the books from the Carina Press blog.
To learn more about Carina Press–including how to submit your story–read the Carina Press FAQs, About Us page, and Submission Guidelines. Note: some areas of the site are still under construction and are being tweaked to fix fonts and formatting, so please bear with us if you encounter something that looks slightly odd.
Happy reading!
~Amy