by Amy Wilkins, Harlequin Digital
Have you checked out Rachel Vincent's new YA series Soul Screamers from Harlequin TEEN yet? The first book, My Soul to Save, launched the new Harlequin TEEN line in August (read Rachel's guest-post about it here) and has gotten a great response so far…well, who wouldn't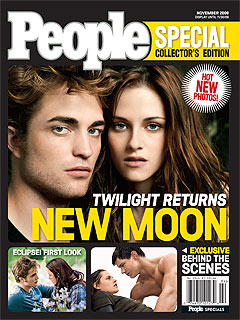 love a book filled with banshees (or bean sidhes), grim reapers, special powers, and hot guys 😉
Take a look for an ad for My Soul to Save in the special People Magazine Twilight Collector's Issue, on-sale today! (The ad also mentions the free eBook prequel to the series, My Soul to Lose, which you can download at the Harlequin TEEN website. If you haven't already, what are you waiting for?!) Click the image below for a closer look:
Plus, here's a peek at the brand-new cover for the second book in the Soul Screamers series, My Soul to Save:
As it happens with book covers, it went through a little redesign to give more of a close-up of "Kaylee". Here is the older design:
And speaking of book covers, the Readergirlz blog has a series of posts by Harlequin TEEN authors on the cover art for their books: Gena Showalter posts about Intertwined, and Rachel Vincent on the Soul Screamers covers, which includes some step-up-step photos of the creation of the My Soul to Take design. Interesting look behind a bit of publishing biz! (plus they're giving away some Harlequin TEEN books and t-shirts to commenters…)
What do you think about the Harlequin TEEN designs so far? Which version of the My Soul to Save cover do you like better? Vote, share your comments and also let us know what YA covers you love the best!
[polldaddy poll=2128180]