Silhouette Nocturne author Linda O. Johnston joins the Paranormal Party to blog about what elements of paranormal romance she wishes were real: amazing abilities! Learn about what powers show up in her books, including her contribution to the new Nocturne Bites anthology Awakening the Beast, in her guest post…
I've been asked to answer the question: "What elements of paranormal romance do you wish were real?"
I am currently writing the Alpha Force mini-series for Silhouette Nocturne.  It's about a super-secret military force of shapeshifters.  So far, the stories have been ALPHA WOLF and the Nocturne Bites "Claws of the Lynx," which is included in the AWAKENING THE BEAST anthology–a brand new release this month!
I've also written the Silhouette Nocturne BACK TO LIFE, which features a woman with Valkyrie powers that allow her to bring people back from the brink of death.
In the past, I've additionally written time travel romances.
Which of those elements do I wish were real?  All of them!
Can you imagine the fun of choosing a time in the past that sounds particularly appealing and going back for a real visit, not just reading about it?

Or being able to save the life of someone you care about, simply by willing them to survive?  Well… I love the idea, but since the heroine of BACK TO LIFE sometimes had to ease the people she found dying over to the other side, I'm not so sure I'd want that potentially sad and scary power after all.
But shapeshifting?  Yes!  I'm an animal aficionado.  Have been all my life.  In addition to my paranormal Nocturnes, I also write a mystery series for Berkley Prime Crime about Kendra Ballantyne, Pet-Sitter, and will soon also write a spin-off series about a pet rescuer.  It's a delight to me to have animals in my life.  I've been owned by Cavalier King Charles Spaniels for many years.  But what if I could become one–especially if I had some control over when I shifted, as my Alpha Force characters do?  I'd love it!
Of course the Alpha Force members shift into wolves or lynxes or hawks so far.  Wild animals, not domestic dogs.  And that sounds utterly exciting to me, too.  If I could shift and run through the forests, or fly through the sky… wow!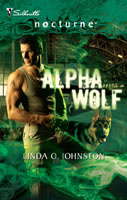 I guess the shorter answer to the question is that I tend to write about paranormal characteristics that I wouldn't mind having myself.  If I didn't find them appealing, I wouldn't write about them.
I'd love to head to my laboratory–well, kitchen–to start working on a shapeshifting formulation like my Alpha Force members use to enhance their abilities.  Only, they had shapeshifting abilities to begin with.  Am I out of luck?  Not really.  Instead, I'll use my imagination and go work on one of their stories!  After all, there are three more Alpha Force stories currently in the works.  The next, ALASKAN WOLF, will be a January 2011 release.
What other paranormal abilities enchant you?