Harlequin TEEN editor Natashya Wilson guest blogs today about the amazing paranormal books from Harlequin's new YA imprint. Keep reading to hear all about SEVEN upcoming books that will entice paranormal readers of any age…
by Natashya Wilson
Welcome to the latest stop on the Harlequin TEEN blog tour, hosted by our own Harlequin Paranormal Blog! Thanks so much for having us here today. Everyone knows paranormal is hot. Many may also know that, when we began Harlequin TEEN, we were initially looking for urban fantasy-type paranormal stories for the imprint. So…what kind of creatures can you find so far in Harlequin TEEN?
Well, first of all, banshees! Before Rachel Vincent's  My Soul to Take (August 2009), I hadn't seen a good banshee story in…well, ever, personally. Rachel has developed a complex world and mythos and blended it so well with today's Texas that I half expect my own world to turn gray and creepy next time I have a hysterical moment (which happens a lot-I have a 2 ½ year old…). If Rachel gets her due, banshees could be the next vampires. And after banshees, a grim reaper may well be the next great romantic hero, judging by the upcoming books in the Soul Screamers series!
As for Gena Showalter's Intertwined, this book defies paranormal categorization in the best of ways. How do you describe a story featuring a teen boy who is such a magnet for all things paranormal, he sucked four souls into his body the day he was born? And it gets more thrilling from there, for each soul gives him more paranormal powers, from raising (and having to fight off!) the dead, to inadvertently traveling through time, to taking over someone else's body, to seeing the future. There are zombies, vampires, werewolves, demons, and more in this deft and fast-paced, ever-romantic adventure.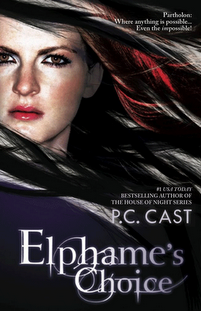 What about goddesses? Sure! We love them, and we're reprinting two beautiful romantic fantasy stories from P. C. Cast, Elphame's Choice and Brighid's Quest, featuring goddess-blessed heroines. P. C.'s Partholon world is full of intriguing creatures, from goddesses to centaurs to romantic half-demon, half-vampires and more. We wouldn't have it any other way!
To bring a little "glamour" to the line, we've also got the magic of faeries! Venture into the dangerous and dying wyldwood if you dare in Julie Kagawa's The Iron King (February 2010), the first book of The Iron Fey. Faced with piskies and will-o-the-wisps, trolls, goblins, icy royal fey and one smart-mouthed cait sith, heroine Meghan is in for a shock when she uncovers her own royal connection to the world of Faery-and discovers her own destiny in helping to save it.
What else could possibly turn up in Harlequin TEEN? The question isn't what…but where. And not even the inhabitants of Inside know exactly where they are or what waits for them in the millionth week in the surprising, futuristic dystopian world of Maria V. Snyder's Inside Out (April 2010). But intrepid loner Trella is determined to find out!
No paranormal lineup would be complete without a little witchcraft. Lucky for us, Douglas Rees's Majix: Notes from a Serious Teen Witch (July 2010) takes that both seriously and with a sense of humor you'll not soon forget, as Doug's feisty heroine defends her right to be a witch and to be herself. See what the universe has in store for you!
We also…shh….may have some ghosts joining us soon. The details at this moment are wispy and indistinct, but a haunting new series from Mara Purnhagen is in the works beginning in September 2010-you heard it here first!
We hope you've enjoyed hearing more about our paranormal titles, and we'd love to hear your thoughts on all things paranormal! What creatures can't you get enough of? What would you like to see more of? What haven't you seen anywhere? We really want to know. Thanks for joining us today, and be sure to check out our next tour stop, Addicted to Books on Monday, August 10 for a chance to win some Harlequin TEEN books and shirts!